Hoover UH72400 WindTunnel Air Steerable Bagless Upright Vacuum Cleaner is relatively lightweight, very affordable upright bagless vacuum cleaner, suitable for carpets and hard floors. It has good suction, HEPA grade air filtration, long power cord and many other very useful features, making it one of the best buy vacuums in this class.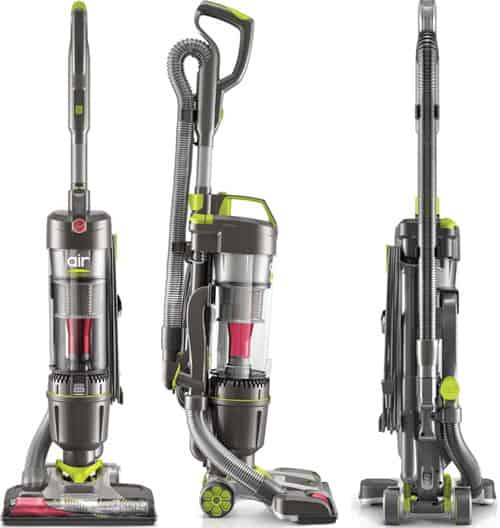 Hoover UH72400 vacuum is based on so-called WindTunnel 3 Technology which lifts and removes deep-down, embedded dirt using 3 channels of suction and on/off multi-floor brushroll.
Unit has pivoting mechanism and in combination with relatively low weight of 13 pounds (~5.9 kg) enables easy navigation around the furniture, corners and edges.
The steerable design reclines all the way to the floor to help reach under the furniture easily.
Suction is very good – vacuum is rated at 11 Amps and motor at 1300W. Power cord is 30 feet (~9.1 m) long, but without automatic rewind mechanism.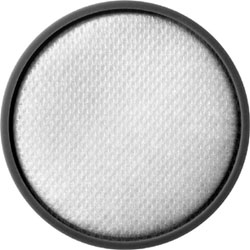 Air filtration is cyclonic and combined with HEPA filter – vacuum doesn't lose suction until dirt cup is full.
However, it is good practice to empty the dirt cup after several uses, in order to avoid unpleasant smells and similar issues. Dirt cup is easily removed from the unit and it is transparent. Dirt cup capacity is 1.2 liters and it is rather small for an upright vacuum cleaner.
Mechanical filter is reusable – rinse it with water and let it dry thoroughly. Don't, but really don't use it until it is completely dry, or small particles can glue themselves to the filter, reducing the vacuum's suction. It is good practice to read the manual before using the vacuum to get accustomed to best practices of this model.
Note: some sites claim that air filtration is not HEPA grade, but official Hoover site says that it is true HEPA level.
Nozzle width is 12.5 inches (~32 cm) and helps cover large area quickly. UH72400 has soft bumpers in order to avoid any damage to the walls and furniture, if/when vacuum hits them – and no matter how user is careful, vacuum will hit the walls and furniture occasionally.
Hoover UH72400 comes with 12 feet (~3.7 m) stretch hose and on-board wand with maximum cleaning height of 14.3 feet (~4.4 m) – it cleans from the floor to the ceiling.

For cleaning hard to reach areas, upholstery, furniture and similar, Hoover UH7240 comes with additional crevice and dusting tool. They are enough for most of the surfaces commonly found in homes and apartments.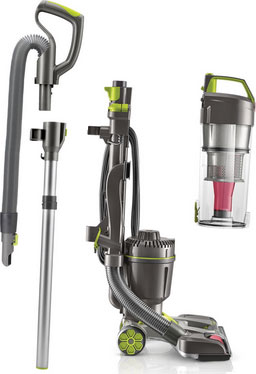 When purchased, Hoover UH72400 WindTunnel Air Steerable Bagless Upright Vacuum Cleaner requires some assembly to be done before first use. Assembly requires no tools and can be done within seconds. If you have any issues with assembly or vacuum itself, be sure to read the manual.
When not in use, vacuum stands upright on its own – it is easy to store it away.
Note: although it is very stable and rather lightweight, if you have small children and/or pets, don't let them play around the vacuum – it can tip over and fall on someone. I don't think it is heavy enough to cause injuries or anything similar, but why risk it – better safe than sorry …
Physical dimensions: 14.5 x 12.5 x 44.2 inches (37 x 32 x 112 cm).
Warranty: 5-year limited (according to official Hoover site – please, check when buying one).
For more reviews and recommendations, feel free to check Hoover UH72400 WindTunnel Air Steerable Bagless Upright Vacuum Cleaner Amazon link (link opens in the new window).
Similar Vacuums to the Hoover UH72400 WindTunnel Air
Hoover MAXLife Pro Pet Swivel HEPA Media Vacuum Cleaner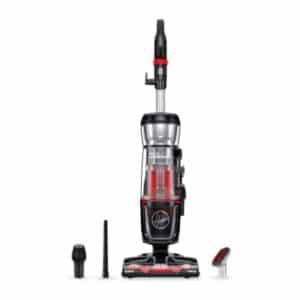 With several accessories and complete reliability, the Hoover MAXLife Pro Pet Swivel HEPA Media Vacuum Cleaner is one of the best alternatives you can get for the Hoover UH72400 if the latter product is unavailable for any reason.
It is a HEPA vacuum with a reusable and easily washable filter that only requires a bit of rinsing with water. It captures and contains 99% of dust and allergens with an odor minimizing filter to prevent them from re-entering the air.
Furthermore, the XL dirt cup can hold a large amount of dust and other pollutants so you won't have to empty it as often as other similarly priced models. It also comes with several attachments that are useful for pets, corners, dusting hard to reach areas, and much more.
Another one of this vacuum's great selling points is the MAXLife System that reduces the need to maintain the filter and prolongs the vacuum's lifespan by a large margin. If you're interested in buying this model in case the UH72400 is unavailable for some reason, click here. And to read first-hand user reviews about the Hoover MAXLife Pro Pet Swivel, click here.
BISSELL Cleanview Swivel Pet Upright Bagless Vacuum Cleaner
The BISSELL Cleanview Swivel Pet Upright Bagless Vacuum Cleaner can be purchased in three different variants from Amazon: the unit itself, the unit plus belt and Febreeze Filter, or the unit plus a PHE Hand Vac.
Right now, we will be focusing solely on the BISSELL Cleanview itself. First off, we like that with each purchase of this unit, a part of your money goes to the company's pet foundation, whose focus is to save homeless pets. Secondly, the vacuum itself is absolutely fantastic when it comes to sucking up all that pesky pet hair that you might have lying around the house – yet another great reason to buy this unit.
Furthermore, to make vacuuming even easier, the BISSELL Cleanview comes with a swivel steering system that makes it easier to maneuver. And the accessories it comes with can help you clean hard to reach places, corners, and crevices with ease. Before, we forget, there's another reason why you might be interested in this particular vacuum: it has a removable and easily washable HEPA filter that traps dust efficiently and that you only need to rinse with water if you want to reuse it.
Check out the BISSELL Cleanview Swivel Pet Upright Bagless Vacuum Cleaner product page here, and the verified user reviews here.
Final thoughts
The Hoover UH72400's WindTunnel technology is absolutely fantastic, as it improves suction power without adding too much weight to the vacuum itself.
And by looking at the latter two products in this article, you'll be able to purchase reliable alternatives that are fairly similar to the UH72400 both in features and when it comes to pricing. In any case, we wish you the best of luck in finding the model that's right for your needs, budget, and wants.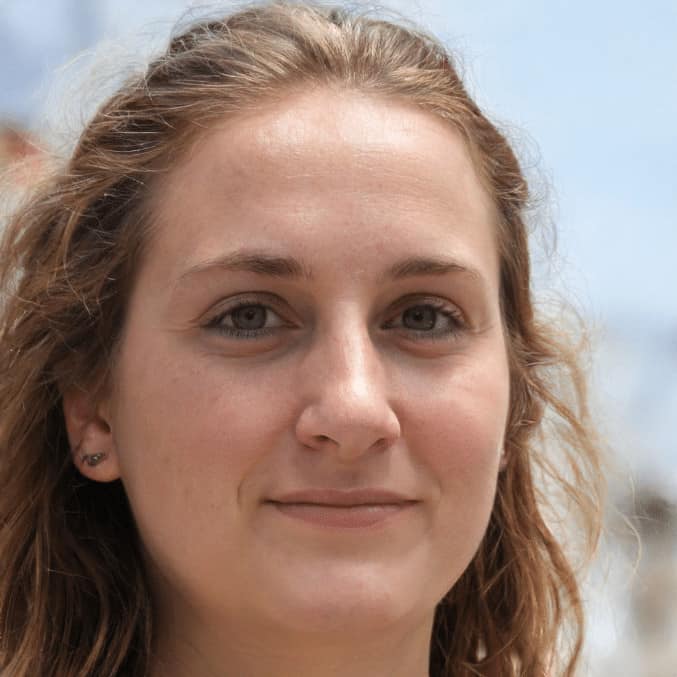 With a degree in engineering, Kathryn Hansen loves to write about how things work. Having her own dilemmas on how to pick the best vacuum cleaner for her large family (with a handful of furry four-legged members as well), Kathryn decided to help others in the same situation. After all, vacuum cleaners are critical to a healthy lifestyle and people have a hard time choosing the best one for their needs.