Hoover UH71250 WindTunnel 2 Whole House Rewind Bagless Upright Vacuum is affordable, corded, bagless, upright vacuum cleaner, suitable for cleaning whole house or apartment – hence the name. It combines convenient upright vacuum design and additional extension hose with several cleaning attachments, making it suitable for cleaning both various types of floors and elevated surfaces.
Hoover UH71250 Features and Specifications
Hoover UH71259 vacuum comes with several built-in cleaning technologies, which are very important for keeping the home clean and safe.
Deep Cleaning – Hoover WindTunnel 2 Technology creates two separate channels of suction and in combination with the Multi-Floor Brush Roll, it lifts and removes both surface debris and deep down embedded dirt. The Multi-Floor Brush Roll allows the user to turn the brush roll on for optimal cleaning on carpets and off to prevent scattering of debris on hard floors. Brush roll on/off switch can be controlled with foot, but the height adjustment is done via selector on the cleaning head with the hand – this can be little bit problematic since the selector is very low.
Extended Cleaning Reach – Hoover UH71250 combines 25 feet (~7.6 m) long power cord and flexible cleaning hose with the cleaning wand. Although 25 feet can cover large area using single wall power outlet, note that UH71250 has additional up to 16 feet (~4.9 m – depending on the used cleaning attachment) of cleaning reach, for cleaning various elevated surfaces like stairs, bookshelves, ceiling fans etc. Power cord comes with automatic cord rewind mechanism.
No Loss of Suction – Hoover UH71250 combines cyclonic dirt air filtration and mechanical air filters. Hoover's Multi-Cyclonic Technology provides continuous cleaning with no loss of suction, until the dirt cup is filled to the 'max line', after which, it must be emptied. Dirt cup capacity is 1.29 liters and that is plenty of dirt. Nonetheless, it is highly recommended to empty the dirt cup after each cleaning.
AllergenBlock Technology – Unit comes with HEPA media filter which captures 97% of pet dander, dust and pollen particles and prevents them from re-entering the air. HEPA media filter is made with an odor-absorbing carbon layer to help eliminate pet odors. Air filtration is good, but Hoover UH71250 is not 'true' HEPA vacuum cleaner – it does not eliminate 99.97% of 0.3 microns and larger dirt and dust particles from air. For more on HEPA standards, click here (link opens in the new window).
Nonetheless, UH71250 is great for pets owners – it combines several technologies like Advanced AllergenBlock Technology, HEPA Media Filter, odor-absorbing carbon filter layer, Pet Turbo Tool, WindTunnel 2 Whole House Rewind etc. in one affordable unit.
Note: Hoover UH71250 comes with two filters – rinsable mechanical filter and HEPA media filter (which is NOT washable/rinsable). Both filters are designed to last the warranty period of the unit and both filters can be cleaned – for proper filter maintenance and to get familiar with your new vacuum. check the manual/instructions. However, when the unit is used often, both filters should be replaced after some time within the warranty period (depending on the actual use and type of dirt).
Warranty period is 2 years for domestic use, which is very good for units in this price range.
Hoover UH71250 dimensions (D x H x W): 13 x 44.5 x 13.5 inches (~33 x 113 x 34.3 cm). Unit weighs 16.1 pounds (7.3 kg) and it is not the lightest unit on the market and it doesn't have full swivel mechanism.
Although the unit is rather wide (13.5 inches), and it lacks full swivel mechanism, it is rather maneuverable and easy to move around.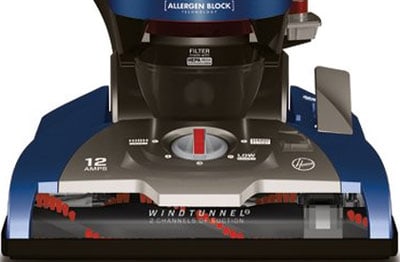 Cleaning head does very good job, but, call me spoiled, it doesn't have headlights, which can be of great help when cleaning in low light conditions like under the beds, furniture and other similar objects.
Cleaning path is full 13.5 inches wide and in combination with 12 Amp motor, it helps the user clean large area quickly. Cleaning height adjustment is done manually via 5-position selector and the brush roll is turned on and off using foot pedal/switch.

Additional cleaning attachments are carried on-board the unit and they include:
Pivoting Dusting Tool is designed for dusting elevated surfaces. Brush bristles agitate dust particles, while strong suction remove the dust away. Thanks to pivoting mechanism, dusting tool can reach awkward surfaces, often unreachable by other cleaning tools.
Crevice Tool is designed for cleaning narrow and tight places and along the edges and in corners.
Pet Turbo Tool does excellent job on the stairs, upholstery and other elevated surfaces that are unreachable by the main cleaning nozzle. It picks up pet hair and other dirt very well, but both Pet Turbo roller brush and the main roller brush are not 'tangle-free' design and from time to time they must be cleaned from pet and human hair, lint and similar debris.
---
Long Story Short – Hoover UH71250 is very good and affordable vacuum cleaner, suitable for cleaning entire homes and apartments. It has good suction, good air filtration, wide cleaning head, but also flexible hose and several, very important cleaning attachments. One can argue that its power cord could be longer, or that cleaning head selector could be higher, or that dirt cup could be larger, or that air filtration is not 'true HEPA' etc. but all-in-all, this is very good unit and it will get its job done.
For more reviews and recommendations, check Hoover WindTunnel 2 Whole House Rewind Bagless Upright Vacuum UH71250 Amazon link (link opens in the new window).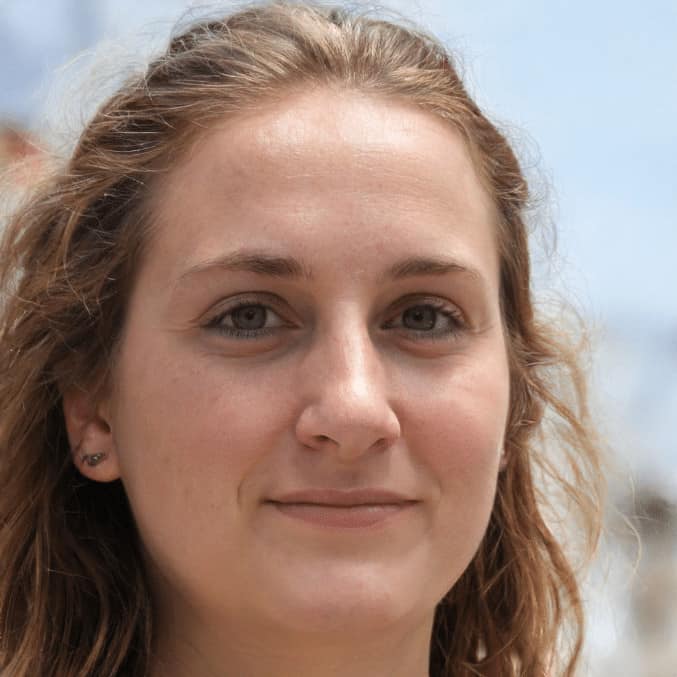 With a degree in engineering, Kathryn Hansen loves to write about how things work. Having her own dilemmas on how to pick the best vacuum cleaner for her large family (with a handful of furry four-legged members as well), Kathryn decided to help others in the same situation. After all, vacuum cleaners are critical to a healthy lifestyle and people have a hard time choosing the best one for their needs.