Hoover UH20040 Sprint QuickVac Bagless Upright Vacuum Cleaner is very popular and affordable corded, bagless, upright vacuum cleaner which also features flexible extension hose and the cleaning handle which doubles as cleaning wand. With onboard 2-in-1 tool and 12.5″ main nozzle cleaning path width, Hoover UH20040 is able to quickly clean various surfaces from the floor to the ceiling.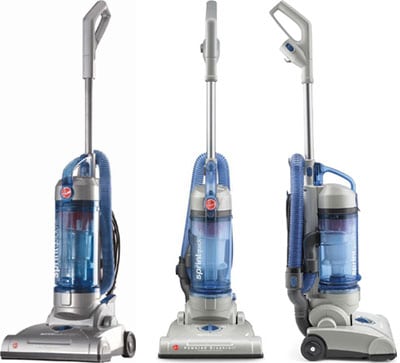 Hoover UH20040 Features and Specifications
Hoover UH20040 is powered with 10 Amp motor, providing very good suction. 23 feet (~7m) long power cord could be perhaps longer, but again, Hoover UH20040 comes with extension hose and wand, increasing the reach not only away from the wall power socket, but off the floor, too.
Unit doesn't have automatic power cord rewind system.
Flexible extension hose, in combination with cleaning wand and 2-in-1 cleaning tool, extend the reach up to 7 feet above the floor, helping the user clean upholstery, stairs, furniture, bookshelves etc.
2-in-1 tool is carried onboard the vacuum and it features a dusting brush and an crevice tool, helping to clean hard to reach areas, edges, window sills, along the baseboards etc.
Unit dimensions are: depth 12 inches (~30.5 cm), height 44 inches (~112 cm) and width 14 inches (~36 cm). It weighs 12.75 pounds (~5.8 kg) and it is not the lightest vacuum in its class. Also, it doesn't have full swivel mechanism. Nonetheless, thanks to the large-enough wheels, and unit's design in general, when the brushroll height is properly set, unit can easily glide over the floors.
Cleaning width of the main cleaning nozzle is 12.5 inches (~32 cm), enabling the Hoover UH20040 to cover rather large area quickly.
Unit comes with spinning brushroll with no brushroll shut-off option. Brushroll is gentle on sensitive floors, but it is highly recommended to test it on a small area, if the user have sensitive wooden floors or sensitive carpeted area.
Brushroll does good job in cleaning various dirt and debris off the various floors, human and pet hair included. However, it is not of 'tangle-free design' and from time to time it must be cleaned from the entangled hair, lint and other similar debris.
Brushroll housing is not transparent, so in order to check the brushroll, the user has to either lift the vacuum and check the brushroll from below or the user has to remove top of the main cleaning nozzle and check the brushroll and its drive belt.
Note: brushroll height adjustment is manual, and it has three possible settings (for bare floors and low-pile carpets, for medium-pile carpets and for thick carpets and rugs). Height selector is low on the cleaning head and that could be of an issue for people with back problems.
Fortunately, Hoover UH20040 comes with System Check Indicator, warning the user of any clogs in the system (but not the entangled brushroll!)
Dirt cup is transparent and enables the user to see amount and type of collected dirt. Dirt cup is cleaned quickly and easily using bottom release push button.
Note: there is a line on the dirt cup which represents maximum recommended amount of the dirt. When the dirt reaches that line, empty the dirt cup.
As long as the dirt stays below this 'MAX line', there is practically no loss of suction.
Air filtration is very well for such affordable unit and it is based on multi-cyclonic dirt-air separation and multiple mechanical washable filters.
Also, final filter is made using HEPA media, significantly improving air filtration. However, using HEPA media filter doesn't make whole unit true HEPA vacuum. Nonetheless, air filtration is very good, which is very important.
When Hoover UH20040 it must be assembled. Before assembling the unit, it is highly recommended to read the manual and get accustomed to the new vacuum cleaner.
When cleaning floors with many objects and obstacles and in low light conditions, note that UH20040 comes with standard bumper to prevent damaging the walls and furniture, but it doesn't have headlights, which can be very useful when cleaning, for example, under the beds.
---
Long Story Short – Hoover UH20040 is one of the most popular, very affordable upright vacuums. It can be used as the main vacuum cleaner in smaller homes and apartments and as second vacuum in larger homes and apartments for quick cleanups. Although it does its job well, it is not suitable for everyday cleaning of heavily soiled floors – for such areas one needs much sturdier and durable vacuum cleaner, which costs more, much more.
For more reviews and recommendations, check Amazon Hoover UH20040 Sprint QuickVac Bagless Upright Vacuum Cleaner link (link opens in the new window).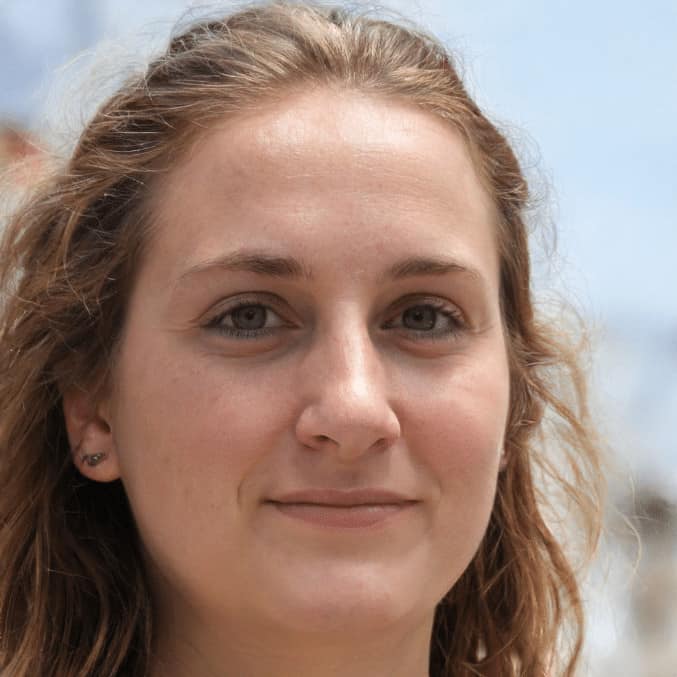 With a degree in engineering, Kathryn Hansen loves to write about how things work. Having her own dilemmas on how to pick the best vacuum cleaner for her large family (with a handful of furry four-legged members as well), Kathryn decided to help others in the same situation. After all, vacuum cleaners are critical to a healthy lifestyle and people have a hard time choosing the best one for their needs.