Eufy RoboVac 11 Robot Vacuum Cleaner is small, but versatile robot vacuum cleaner, powered by strong and durable lithium ion battery and packed with many features, often found on more expensive robot vacuum cleaners.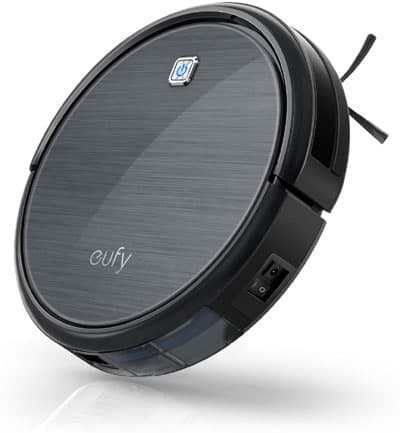 Eufy RoboVac 11 uses 'classic' remote control device, unlike some high-end models that use smart phones' apps to control and manage robot vacuum cleaners.
Eufy RoboVac 11 uses so-called a 3-Point Cleaning System – the side brushes, a rolling brush and a strong suction:
– The side brushes help clean corners and edges, but they also enable the unit to cover larger area in the single pass.
– a rolling or rotating brush is positioned slightly back and in combinations with side brushes, it loosens the dirt from the hard floors and low-pile carpets.
– Eufy RoboVac 11 has a very good suction, which vacuums the dirt into the dirt collector.
Maximum suction is 1000 Pa (or 1 kPa), which is much weaker than some corded, large upright/canister units – such units can create suction up to or even more than 20 kPa. In combination with the side brushes and rotating brush, 1 kPa suction does a good job.
High capacity (2600 mAh) lithium ion battery provides 1.5 hour autonomy for Eufy Robovac 11. During this period, unit can clean rather large area.
Air filtration is very good – it is based on three mechanical filters:
– primary screen – it filters larger objects like hair and crumbs and protects other filter from being damaged by larger and sharper debris.
– foam filter – it filters fine dust and similar particles that get passed through primary screen.
– HEPA-style filter – it filters miters, pet dander, spores and other very small particles, which might cause health and breathing issues.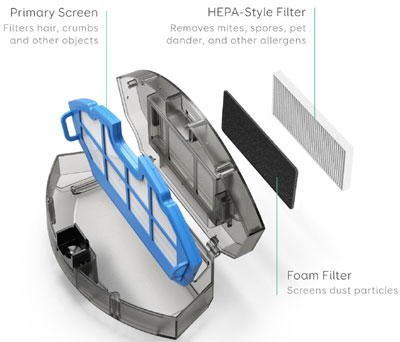 Eufy RoboVac 11 is designed for cleaning hard floors and low pile carpets. It's brushes are rather soft and gentle and should not cause any damage to the floors. However, if you have wooden or similar floors, test the unit on a small area – better safe than sorry. After all, Eufy promote this vacuum as being designed ONLY for hard floor surfaces and low-pile carpets.
Note that unit can traverse vertical obstacles and can transition from, for example, tiles to carpets and back, but carpets and rugs thicker that 15 mm (0.6 inches) can cause the unit to get stuck.
Robovac 11 comes with infrared sensor and anti-collision system for avoiding obstacles in its path like furniture, walls, people or pets and for navigating the cleaning area.
Also, drop sensors help the unit to avoid falls over stairs, for example. Be sure to keep these sensors clean and to avoid using the unit on very reflective or dark floors, as they may prevent the unit from functioning properly.
Eufy Robovac 11 includes anti-scratch tempered glass cover for additional protection – this is very important if you have pets like dogs and/or cats.
Eufy Robovac 11 Cleaning Modes
To improve cleaning on various surfaces and in different situations, Eufy Robovac 11 has several built-in cleaning modes:
– auto cleaning: using onboard sensors, Robovac 11 calculate optimum path for cleaning and clean the area until the area is cleaned, or until it needs to be recharged.
– spot cleaning: unit cleans a single spot/area using spiral cleaning pattern. This is very useful in emergencies or if there is large amount of dirt and debris on the single spot.
– edge cleaning: when the unit detects the wall, speed is decreased and the unit follows the wall, cleaning the edge of the wall/floor. Here is where the side brushes are very important.
– max cleaning: auto cleaning mode using maximum suction power, very useful when floors are very dirty or on carpets – this mode requires more power from the battery, but reduces number of required passes.
– single room cleaning: this mode is used for cleaning a single room.
– manual mode: in manual mode, user moves the Robovac 11 directly over the area using the remote control.
Note: some users use 'manual cleaning mode' to 'transport' the beer and other drinks (and food) around the room and even smaller homes, but this is not what this unit is designed for. Also, the unit is not water-proof! 🙂
Robovac 11 can schedule the cleaning at specific time. Also, the unit is only 78mm high (slightly over 3 inches) and can reach under the most sofas and beds.
Charging the Eufy Robovac 11
In most instances, Robovac 11 will charge itself automatically. However, there are few important notes regarding charging this unit:
– charging base should be positioned on the flat, hard surface, against the wall. Charging base should be without obstacles on all three sides – this helps the unit to find the charging base, and to properly position it on the charging base. No lose cables or other objects should be around the charging base.
– to return the unit to charging base, press the required button and the unit will stop cleaning and return to the charging base.
– if the unit is unable to find the charging base or the battery is fully drained, manually position the unit on the charging pins.
– it is also possible to charge the unit by directly plugging the charging cable into the Robovac 11 unit.
Maintaining the Eufy Robovac 11
Eufy Robovac 11 is not maintenance-free robot vacuum cleaner. Dirt collector must be emptied manually, from time to time one has to clean rotating brush and the side brushes from various dirt, mostly from hair and the filters must be periodically cleaned or replaced.
To get accustomed with your unit, be sure to read the manual first, even before assembling the unit – unit must be prepared for the first operation and must be assembled, which is done is seconds … just be sure to follow the manual!
What's in the box: Eufy RoboVac 11, remote control, charging base, AC power adapter, cleaning tool, HEPA-style filter, 4 side brushes, welcome guide and 12-month warranty. Note that remote control requires 2 AAA batteries, but they are not included. Since shelf life of alkaline AAA batteries is at least 5-7 years, IMHO, they should be included.
For more reviews and recommendations, check Eufy RoboVac 11 Robot Vacuum Cleaner
Amazon link (link opens in the new window).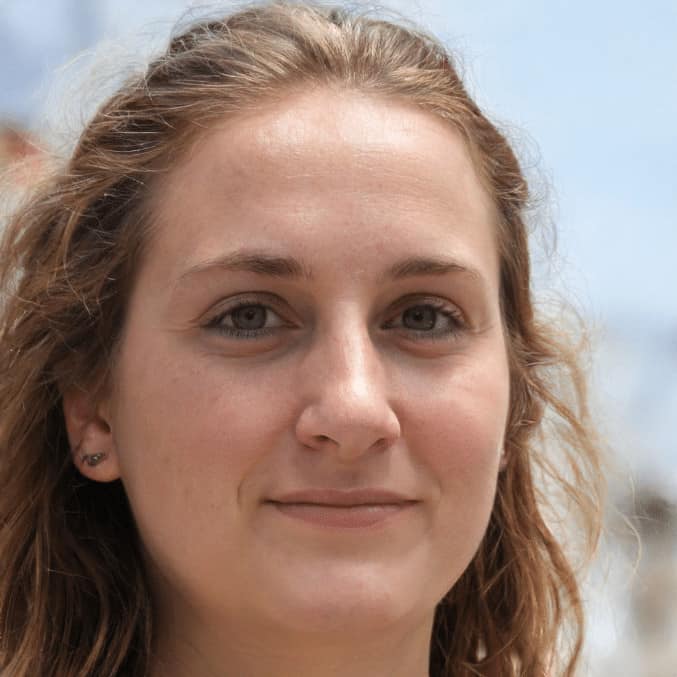 With a degree in engineering, Kathryn Hansen loves to write about how things work. Having her own dilemmas on how to pick the best vacuum cleaner for her large family (with a handful of furry four-legged members as well), Kathryn decided to help others in the same situation. After all, vacuum cleaners are critical to a healthy lifestyle and people have a hard time choosing the best one for their needs.