Electrolux EL4335 Corded UltraFlex Canister Vacuum is a versatile canister vacuum cleaner, suitable for cleaning various surfaces ranging from low-to-high pile carpets, hard floors, stairs, upholstery, and other surfaces commonly found at homes and apartments. The main cleaning tool is a motorized, self-cleaning brushroll with adjustable height. It is a sealed, true HEPA air filter cleaning system.
The main features of the Electrolux EL4335 Corded UltraFlex Canister Vacuum are adjustable suction power, 3-level height adjustment, HEPA air filtration, motorized self-cleaning brushroll, and respectable 5-year warranty.
Electrolux's UltraFlex canister vacuum offers excellent cleaning performance on various surfaces. It is not the cheapest corded, bagless, canister vacuum cleaner around, but it is designed for performance and one pays, one gets.
Electrolux UltraFlex's main cleaning tool includes an On/Off brushroll switch and 3-level height adjustment, making it suitable for all floor surfaces, from bare floors to area rugs and low-, medium- and high-pile carpets.
Suction power is adjustable, letting the user reduce suction to safely vacuum delicate surfaces, upholstery, curtains, fabric, etc. The powered floor nozzle has a very low profile and headlights to easily slide under the furniture to clean hard to reach areas, even in low light conditions.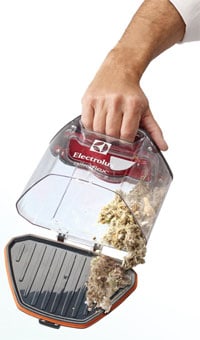 Dirt separation is based on a cyclonic system, which gives consistent suction power regardless of the amount of dirt in the dirt bin.
The entire unit is a sealed cleaning system, with multi-stage air filtration. The premium, true HEPA filter captures 99.97% of dust, allergens, and other pollutants for a cleaner home – very important for people suffering allergies, asthma, and have other similar issues.
Note that the HEPA filter is washable, however, it should be changed every 9-12 months, depending on the vacuum usage. Dirt bin is cleaned easily, just don't clean it 3 feet above your trash 🙂 Dirt bin capacity is around 0.4 gallons (~1.5 liters) and perhaps it could be bigger.
Electrolux UltraFlex has large rear wheels and a low center of gravity, making it very maneuverable around furniture, edges, walls, and stairs with ease.
The power cord is 21 feet (6.4 m) long and it comes with an automatic rewind system. At first, the power cord looks short, but the unit also comes with 8 feet (2.4 m) flexible hose and telescopic wand, for a maximum combined reach of 33 feet (~10 m).
Thanks to the long hose, telescopic wand, and available attachments, Electrolux EL4335 can practically clean every surface from the floor all the way up to the ceiling.
Electrolux EL4335 is easy to store with horizontal or vertical storing options. When stored vertically, most of the unit is low on the floor (canister part with the motor), and only relatively lightweight wand and hose are stored vertically – it is a much stable configuration than most uprights vacuum. Nonetheless, don't let the kids and pets play around the unit, since it can fall down and hit somebody or someone.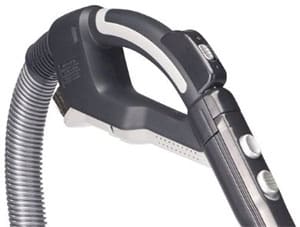 UltraFlex comes with versatile cleaning tools which include a crevice tool, a dusting brush, an upholstery nozzle, and a bare floor nozzle.
A crevice tool and dusting brush are conveniently stored on the handle, ready to be used quickly when required.
Electrolux UltraFlex EL4335 includes a 5-year limited warranty, which is an excellent time for a warranty that's meant to cover a residential vacuum cleaner.
Electrolux UltraFlex EL4335 Specifications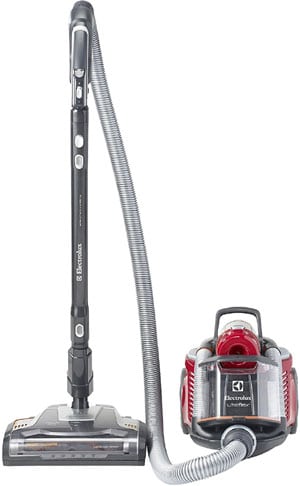 Technical data and specifications of the Electrolux EL4335:
– cleaning width: 11.5 inches (29.2 cm). There are similar vacuum cleaners with wider cleaning nozzle width that can cover a larger area in less time, however, a wider nozzle requires more power for the same air speed and it can have issues cleaning around the furniture and tight spaces. 11.5 inches cleaning width is a nice and acceptable compromise.
– motor power: 12 Amps. 12 Amps current is almost the 'standard' current rating for vacuums of this size and class. At full power, it provides plenty of suction power, but we could not find the exact Air-Watts rating for this vacuum cleaner.
– brushroll stall indicator – although the brushroll cover is transparent, the brushroll indicator is a nice feature to have, since it lets the user focus on the cleaning, not the vacuum cleaner.
– dimensions (H x L x W): 20 x 13 x 11.5 inches (~51 x 33 x 29 cm). The unit is compact and easily pulled during the cleaning and easy to store when not in use.
– unit weight: 11.6 pounds (~5.25 kg): Weighing around 11.6 pounds, the unit is not the lightest vacuum on the market, but when actually in use, a much lighter telescopic wand is pushed/pulled over the floor. Also, when carried around, both hands are used, commonly the wand is carried with the right hand, and the canister is carried with the left hand – much easier than carrying similar upright vacuums from room to room or up and down the stairs.
– headlights help cleaning the floors in low light conditions like under furniture, in corners, and similar. They help notice not only the dirt, dust, and hair, but also small items that should not be vacuumed at all. And if they get vacuumed, the dirt bin is transparent, making it easy to check what was vacuumed.
– low noise: when being used at full throttle, the unit produces slightly under 70 dB of noise – excellent for a 12 Amp canister vacuum.
And a few cons, too:
– electronic filter or clog indicator: Electrolux EL4335 doesn't have an indicator of the suction drop due to dirty filters or clog in the wand/hose. It is up to the user to determine if the filters are clean and if they must be cleaned or replaced. Not many vacuums have such indicators, but it would be nice to have one.
– small dirt bin capacity – dirt bin capacity is 0.4 gallons and it is usually enough for 1500-2000 square feet (140 – 185 m2). If you have a large home and the entire surface is cleaned regularly, the dirt bin should be cleaned after each use of the vacuum.
– narrow nozzle – some users with larger homes complain that a cleaning width of 11.5 inches is not wide enough. However, the powerful motor, the strong suction, and the motorized brushroll do the job in less cleaning head passes.
Long story short – Electrolux El4335 is not the cheapest canister around, but it will get its job done thoroughly. Flexible hose and telescopic wand, in combination with adjustable, self-cleaning, motorized brushroll and a crevice tool, a dusting brush, an upholstery nozzle, and a bare floor nozzle, will clean almost any surface from the floor to the ceiling.
For more reviews and recommendations, check the Electrolux EL4335 Corded UltraFlex Canister Vacuum
Amazon link (link opens in the window).
Products Similar to the Electrolux EL4335 Corded UltraFlex Canister Vacuum
Bissell Powergroom Multicyclonic Bagless Canister Vacuum – Corded – 1654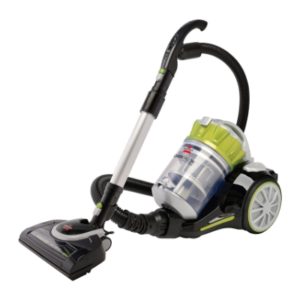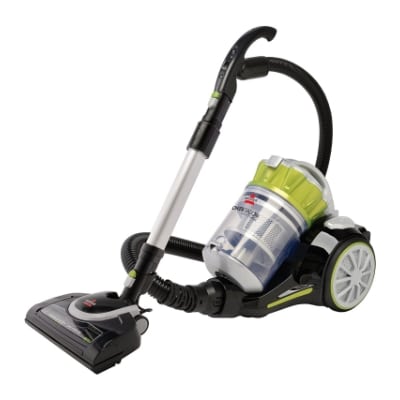 With a two-liter dirt cup capacity and a motorized brush roll for dirt, hair, and other debris across carpets, the Bissell Powergroom Multicyclonic 1654 somehow manages to stay quite fairly priced when compared to many of its other competitors. The multi cyclonic technology used here offers excellent suction power and keeps the filters clean for longer thanks to the power at which air is projected.
Since this is a bagless model, the dust goes into a can that you can easily empty with the touch of a button. Just place it above a trash can or any place where you want to dispose of the dust, press the button, and the bottom part of the can will open to allow all the pollutants to escape. Speaking of dirt cups and whatnot, its capacity is two liters, which is more than enough for a regular cleaning day at home.
Eureka WhirlWind Bagless Canister Cleaner NEN110A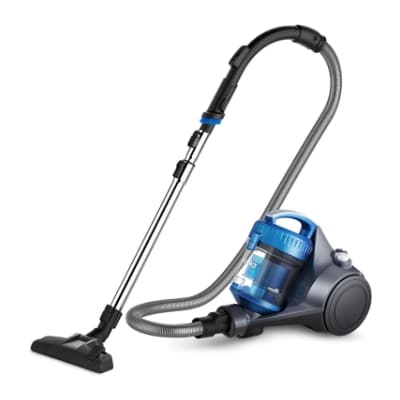 This innovative multi-surface vacuum from Eureka offers an integrated airflow control button placed right on the handle for easy switching using only your fingertip. The Eureka whirlwind vacuum cleaner weighs less than 8 pounds and can easily maneuver under and around furniture and stairs thanks to its swivel steering and telescoping metal wand.
And if you're concerned about the small size, you need not worry. Why? Because the dust cup has a capacity of two and a half liters, which is more than enough for most regular household cleaning jobs.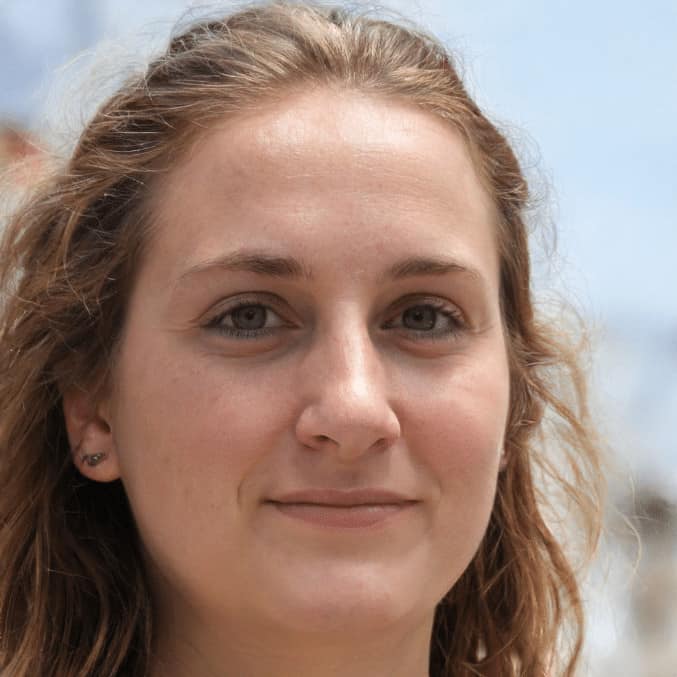 With a degree in engineering, Kathryn Hansen loves to write about how things work. Having her own dilemmas on how to pick the best vacuum cleaner for her large family (with a handful of furry four-legged members as well), Kathryn decided to help others in the same situation. After all, vacuum cleaners are critical to a healthy lifestyle and people have a hard time choosing the best one for their needs.