Robotic vacuum cleaners are one of the most convenient home tools available on the market. They can be scheduled to do a sweep of the entire house as often as you need. These handy gadgets are great for cleaning houses, apartments, offices, restaurants and more to provide an efficient clean and save you time.
But, don't just purchase any robotic vacuum cleaner because you want to choose one that is the best value for your money and performs well every time. Let's take a look at a Deebot N79 review and share some of this machine's best features. 
Benefits of Owning a Robotic Vacuum Cleaner
There are plenty of robotic vacuum cleaners to choose from, and each product offers unique features. And, before we get into the N79 review, let's take a look at some of the benefits of owning a robotic vacuum cleaner, in case you weren't so set on the idea.
1. Simple to Use
The number one benefit to owning a robotic vacuum cleaner is how simple they are to set up and use. Once you've programmed the vacuum to your phone or the remote, you're past the most difficult part and the vacuum can now begin working for itself. The next step is to place the device on the floor in a spacious area and you don't have to do anything else.
Many people who don't consider themselves tech-savvy are fearful that it'll be confusing to operate a robotic vacuum cleaner. Although these devices operate automatically, the set-up process can be daunting. However, you only need a minimal amount of technical experience to operate one of these which makes them ideal for people of all ages and skill sets. Plus, with technological developments, operating and setting-up a robotic vacuum cleaner is becoming less complex over time.
2. Frees Up Your Time
Don't the majority of us want more free time? Wouldn't it be incredible to spend more time with family or catch up on a backlog of work? Thankfully, the Ecovacs Deebot N79 vacuum is designed with your busy lifestyle in mind. We're busier and have less time than ever, so it can be baffling to fit all the things you want to do in your daily life.
The most beneficial aspect of a robotic vacuum cleaner is that you don't have to put in the work to have a clean house. In addition, you can simply set the vacuum cleaner to operate and not even need to be in the room or house at the same time it's on. Put your feet up and take a nap while the vacuum cleaner sucks up any dirt, debris, pet hair, and everything in-between. Make the most of the free time and use it to your advantage.
3. Ability to Work on Different Floor Surfaces
Many of the best robotic vacuum cleaners can operate on different floor surfaces, and sometimes without you having to manually switch between carpet and hardfloor. Higher-end models tend to automatically adjust from carpet to wood floors without any jolts or confusion, whereas lower-end models can find this transition a little overwhelming. The most important thing to remember to get the most of your robotic vacuum cleaner is to accurately programme in the information about the floor surfaces in your home so that the vacuum can adjust accordingly.
4. Senses an Array of Dirt
You might be under the impression that a robotic vacuum cleaner can't actually do a thorough job of cleaning your home. However, they have intelligent sensors that can recognize if there's any dirt, dust or hair present. Depending on the brand you choose, these sensors can detect from far away and are designed to approach the dirt rather than you having to be on the lookout and control where the device travels.
Many robotic cleaners can suck up deep dirt embedded into carpets and make your home look like you don't own a pet that continually sheds hair. With built-in sensors, these machines can also adjust their cleaning mode to suit the level of dirt it finds. Some machines will also repeatedly go over the same area until it's happily achieved a successful job.
5. Small and Easy to Store
We can probably all agree that an upright vacuum cleaner isn't the most convenient appliance to store in your home, especially if you don't have a spare cupboard. Keeping your vacuum in the living room can look significantly messy and doing so doesn't give you free time to not think about chores.
On the other hand, a robotic vacuum cleaner is small and thin enough that you can store it in an array of places. This means you don't need to have a spare cupboard to keep it, as under the bed or in a spare room will suffice. This is a great idea if you have limited space or are looking for ways to downsize your belongings and make room for other things. Finally, another huge benefit of their small size and design is that a robotic vacuum cleaner can reach places that a regular vacuum can't. This makes cleaning under furniture and chairs possible, and without having to move the furniture out of the way for a thorough clean.
6. Great Solution for Unfit and Elderly People
If you've ever been ill, you'll appreciate that the housecleaning doesn't get done by itself. However, if you're too unfit to move, the dirt will continue to pile up. This is why a robotic vacuum cleaner comes in really handy in your life. As there's really no work involved in operating a robotic vacuum cleaner, you can simply switch it on and wait for the machine to clean your home while you remain in bed until you've fully recovered.
Hiring a housekeeper if you're ill can be an expensive task, and not everyone likes strangers in their home either! But, rather than wasting your expenses on unnecessary costs, invest in a cleaner that will always be there when you need it. Many come with a remote, so you don't even need to leave your bedroom.
Alternatively, if you or someone you know is elderly, they shouldn't be struggling to push a vacuum cleaner around their house. Instead, purchase a robotic cleaner that requires little to no effort so nobody has to strain themselves just to have a clean home.
7. Efficiently and Quickly Cleans Your Home
Not many of us like cleaning, and even when you've spent forever cleaning your home, you can still notice bits of dirt that you missed with the vacuum. But thanks to a robotic vacuum cleaner, you can always have a clean and tidy home, if not tidier than manually vacuuming. With built-in sensors to detect where any dirt or dust is hiding, the device can sense dirt where a human eye would ordinarily miss it.
Higher-end robotic vacuum cleaners feature different cleaning modes so you can choose if your home needs a thorough or maintenance clean. Upright vacuum cleaners don't always have the mobility and flexibility that you sometimes need to collect every speck of dirt on your floors. But, as a robotic vacuum cleaner can reach awkward places in your home, including corners, and under furniture, these machines use both a back-and-forth and circular motion to target every section of the floor as possible.
Features of the Ecovacs Deebot N79 Vacuum
There are lots of reviews out there on this amazing little machine. Real people, testing out this robot in their homes, give their thoughts. Some big names, too, offer us some insight on what makes the Deebot N79 so great. In fact, Forbes deemed the Ecovacs Deebot N79 the best affordable robotic vacuum cleaner at the end of 2017.
Why is everybody raving about the Deebot? Let's take a look at some of the features and qualities to fairly conduct a review. 
1. Suction Power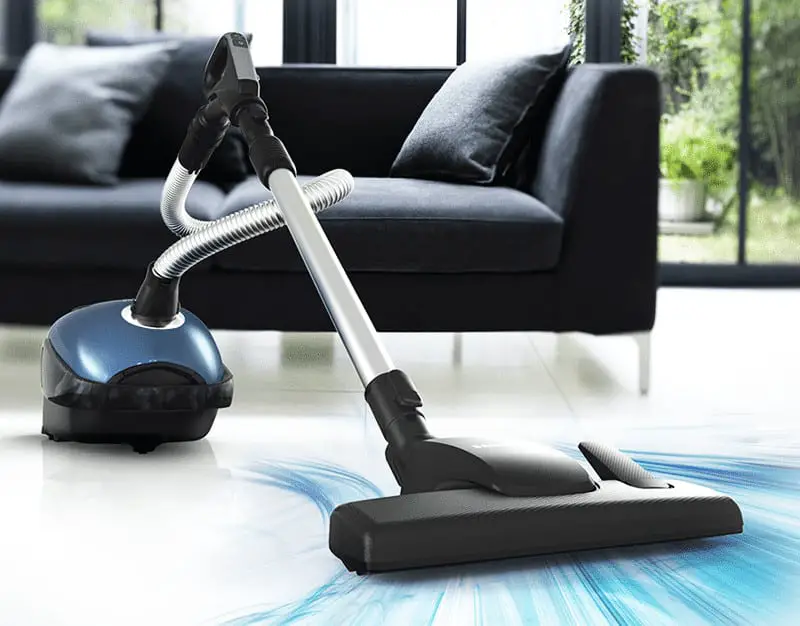 Not all vacuum cleaners are created equal. And typically, robotic vacuum cleaners have the least suction power of all. And by that, we mean they don't suck up as much of the dirt and dust that we encounter in our daily lives. Some vacuums target pet hair and dust, but have issues dealing with other slightly larger debris like breakfast cereal chucked by the kiddos.
The Deebot N79, however, has the power to get it all. I mean, it won't pick up your husband's dirty underwear in the bathroom, but don't you want him to do that himself anyway? More specifically, this vacuum offers 33 percent more suction than some of the best robotic cleaners on the market right now. What we love most about this cleaner is that you don't realize how dirty your house was until you see how full the dustbin gets after a cleaning session. Although you can't see all dirt and dust just by looking at your floors, it's comforting to know that this vacuum provides a thorough clean.
2. Maneuverability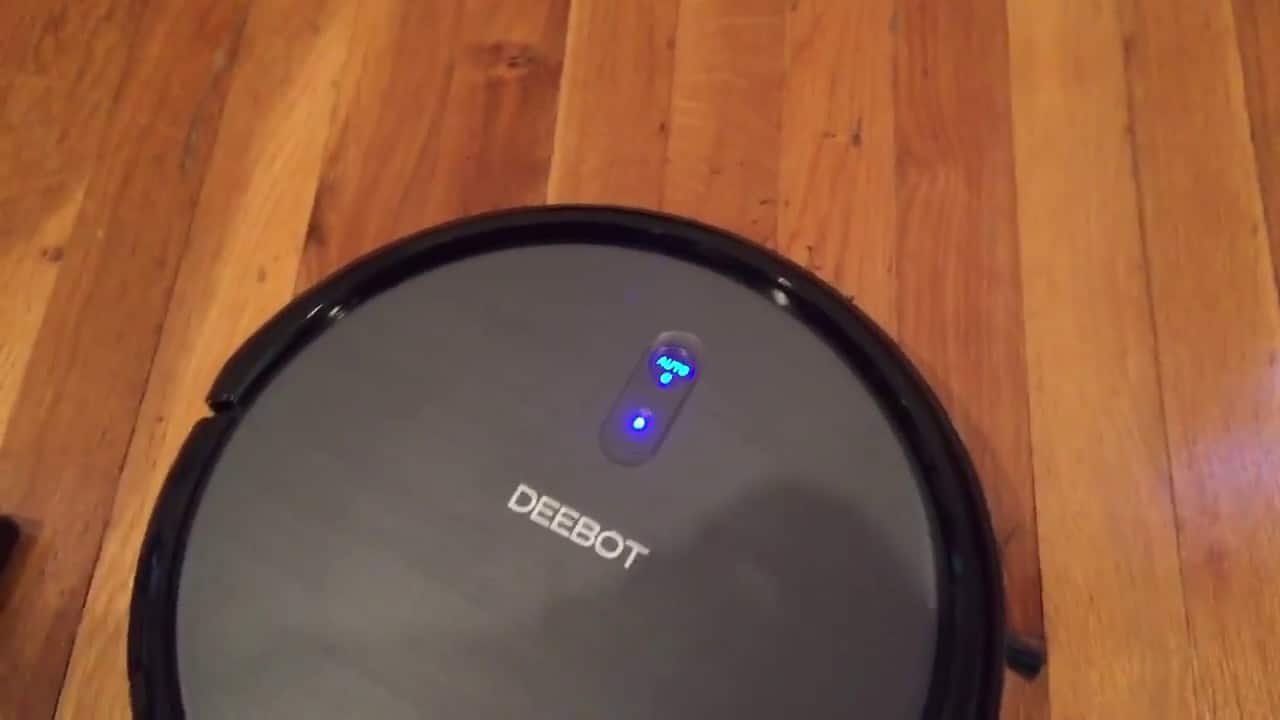 The Ecovacs Deebot N79 doesn't often get tripped up on things, unlike many other robotic vacuums. This is one of the best robotic vacuums as it uses a SMART MOTION system to navigate around furniture, and through doorways. It senses objects in its way and moves around them in an organized pattern that makes sure it leaves no corner untouched.
This vacuum is particularly incredible at detecting objects and furniture to not bump into them regularly. By sensing that an object is in close proximity, it'll turn and carry on cleaning the rest of the house until all of the cleaning duties are completed. If you place it in a room with dining chairs, it can easily navigate around these and cover as close to the chair leg as possible. 
3. Connectivity

If you love the idea of programming your vacuum cleaner from anywhere in the world, the Ecovacs Deebot N79 is the perfect machine for you. When you purchase the Deebot, you'll download the app, and get to work. You can change the cleaning settings, schedule cleanings, add in an extra sweep of the house, or check the status of cleaning. And you can do all of this from your phone at an airport in Taipei. We think that's a pretty awesome feature for people on the go a lot. A fun bonus feature with the app is that the Deebot actually lets you drive it manually if you so choose.
This is one of the cheapest robotic vacuums that features wifi connectivity. Although this feature might not be essential to clean your home, it's a handy way to connect this household appliance to a simple app so it's easier and more convenient to conduct everyday tasks around your home. This tech-savvy robotic vacuum cleaner makes cleaning your home fun and inventive.
When creating this Ecovacs Deebot N79 review, we discovered that this device can integrate with Alexa to begin and stop cleaning whenever you need. You can say commands such as, "Alexa, ask Deboot to begin cleaning", or "Alexa, ask Deebot to charge" and Alexa will respond accordingly. It's worth bearing in mind that many other smart home systems don't integrate that well with this vacuum so you might encounter problems setting up other smart devices. 
​
4. Automatic Charging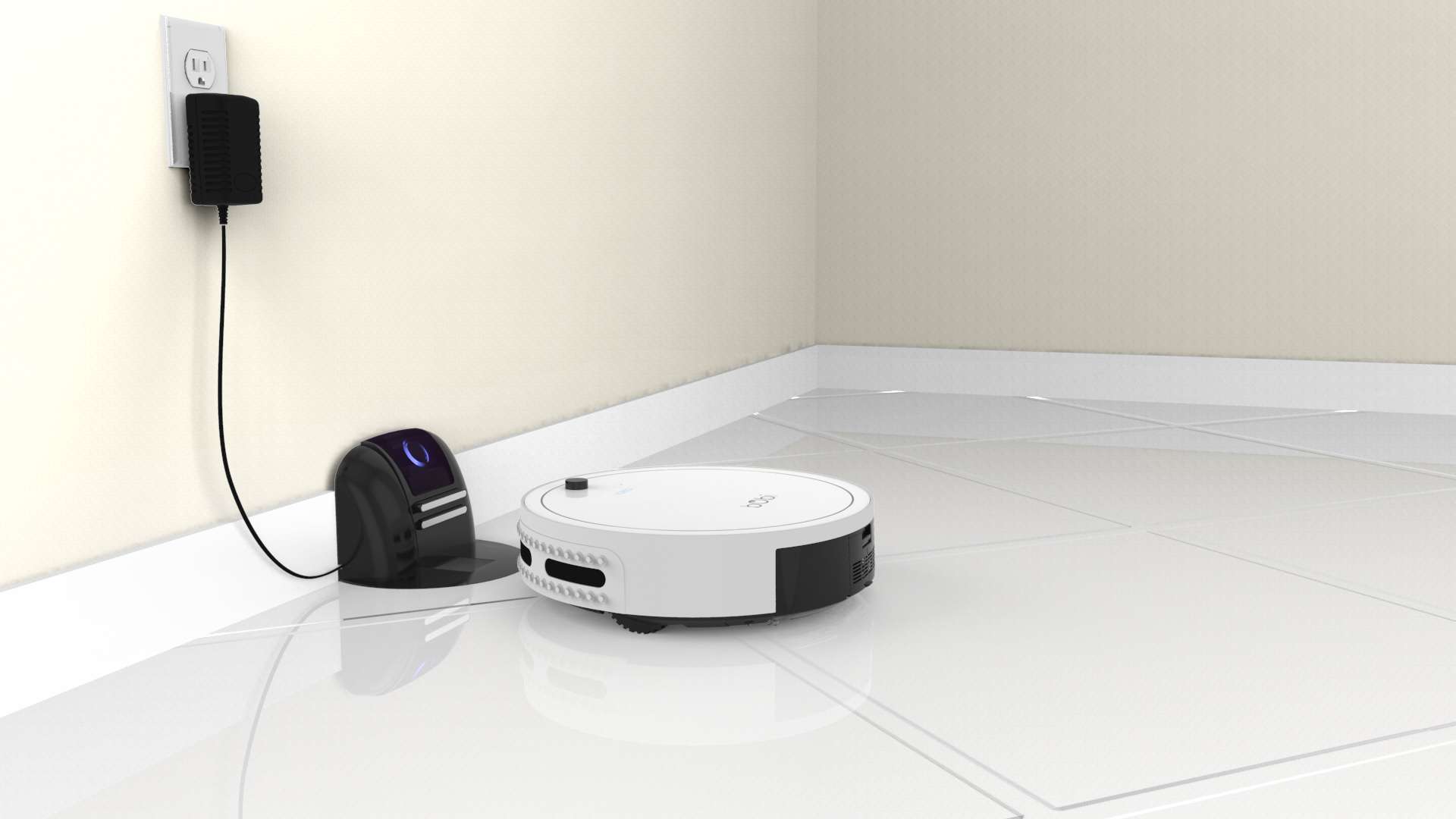 The Deebot knows when it needs to get some chargeback. It will dock itself, and charge again until it's ready to go again for the next round. So, even if you schedule a sweep of the house a couple of times per day – recommended if anyone in your household has dust allergies— the Deebot N79 will continue getting the work done all day long. The app is simple to use and programme to this robotic vacuum where you can see how much charge is remaining, and when the vacuum needs a boost again. The charging base is relatively discreet so it won't take up much room in your home. Also, you can even ask Alexa to begin and stop charging the vacuum should you wish to give the charge a boost.
Charging can be annoying with some robotic devices as they sometimes require you to manually place the machine into the charging base. Once the Deebot N79 is fully charged, it can comfortably last for 120 minutes until the battery is drained. This amount of time is enough to clean an average-sized house at least once. Plus, the more often you vacuum your home, the less time it'll take to clean.
5. Filters and Brushes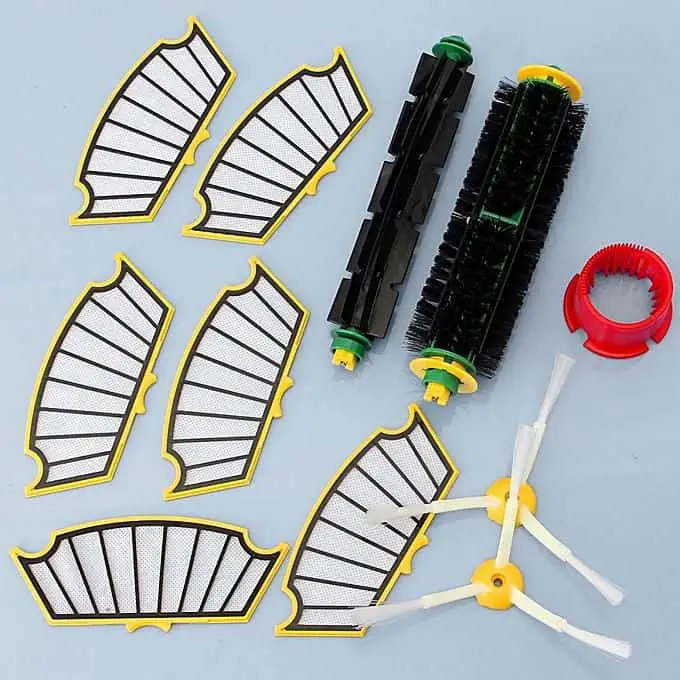 Two of the most important factors for any vacuum, whether a hang vacuum, cordless upright, or a robotic vacuum, are the brushes and filters. The wrong shape means less pickup. The wrong filter means more work for you or frequent replacement. The Ecovacs Deebot N79 uses a V-shaped brush as its main brush that actually lifts the debris in its path, and therefore gives a much deeper cleaning than the average robotic vacuum cleaner. The filter that comes with the Deebot is also one of the most efficient filters available for robotic vacuums.
6. Quiet Running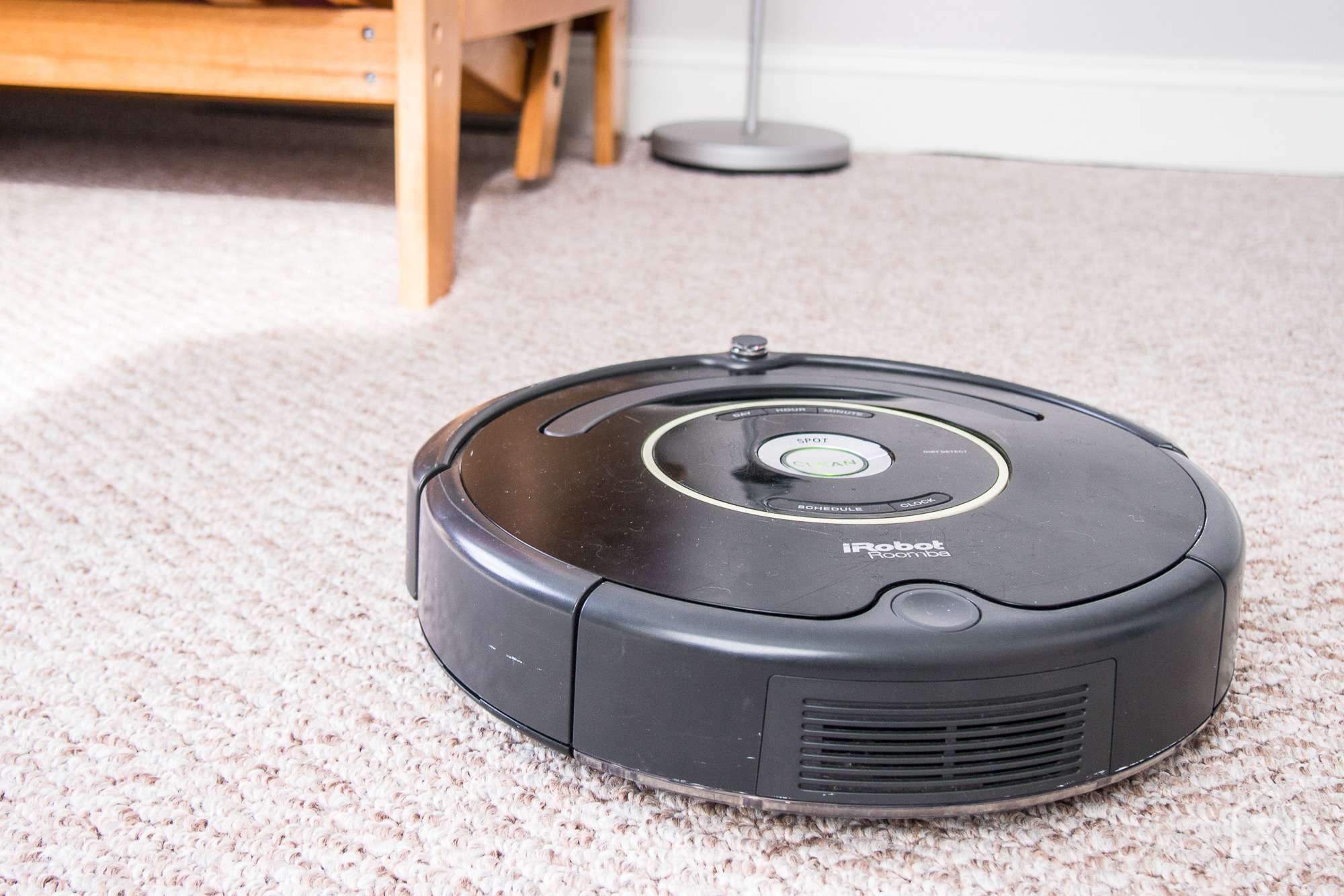 If you've got a frightened cat who practically has a heart attack every time you get out the vacuum cleaner, this little machine will probably pass the test. It runs quieter than most other robotic vacuums, if not all, and won't disrupt activities around the house with its noise as much as some of the competitors.
7. Anti-Drop Sensors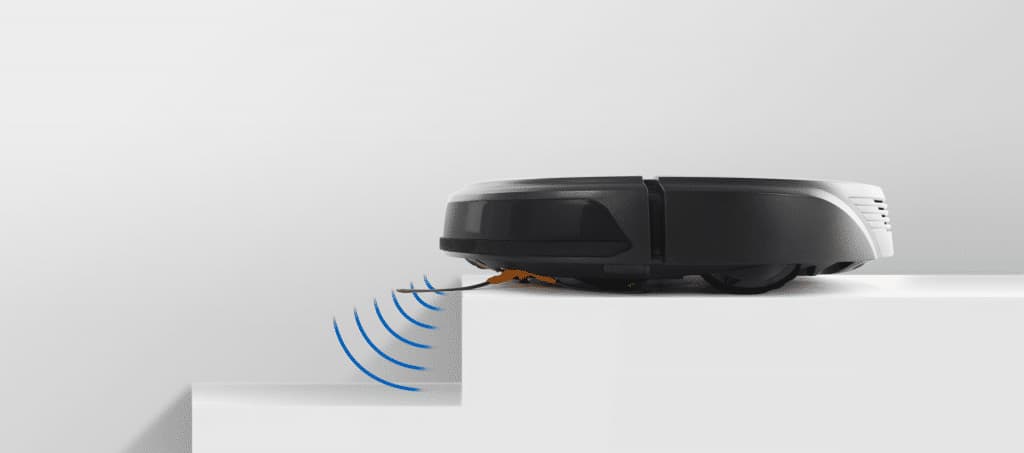 If you've got multiple levels in your home, this feature is a vacuum-cleaner saver. The Deebot makes its way around your place as programmed, but as it comes to things like stairs or floor edges – like those upstairs by the end of the railing — it will detect these drop-off edges and stop itself before it goes over. This cliff sensor protects the vacuum while moving around your home. Not only is this excellent maneuverability down to the SMART MOTION system, but the vacuum's streamlined design, too. 
​
8. Different Cleaning Modes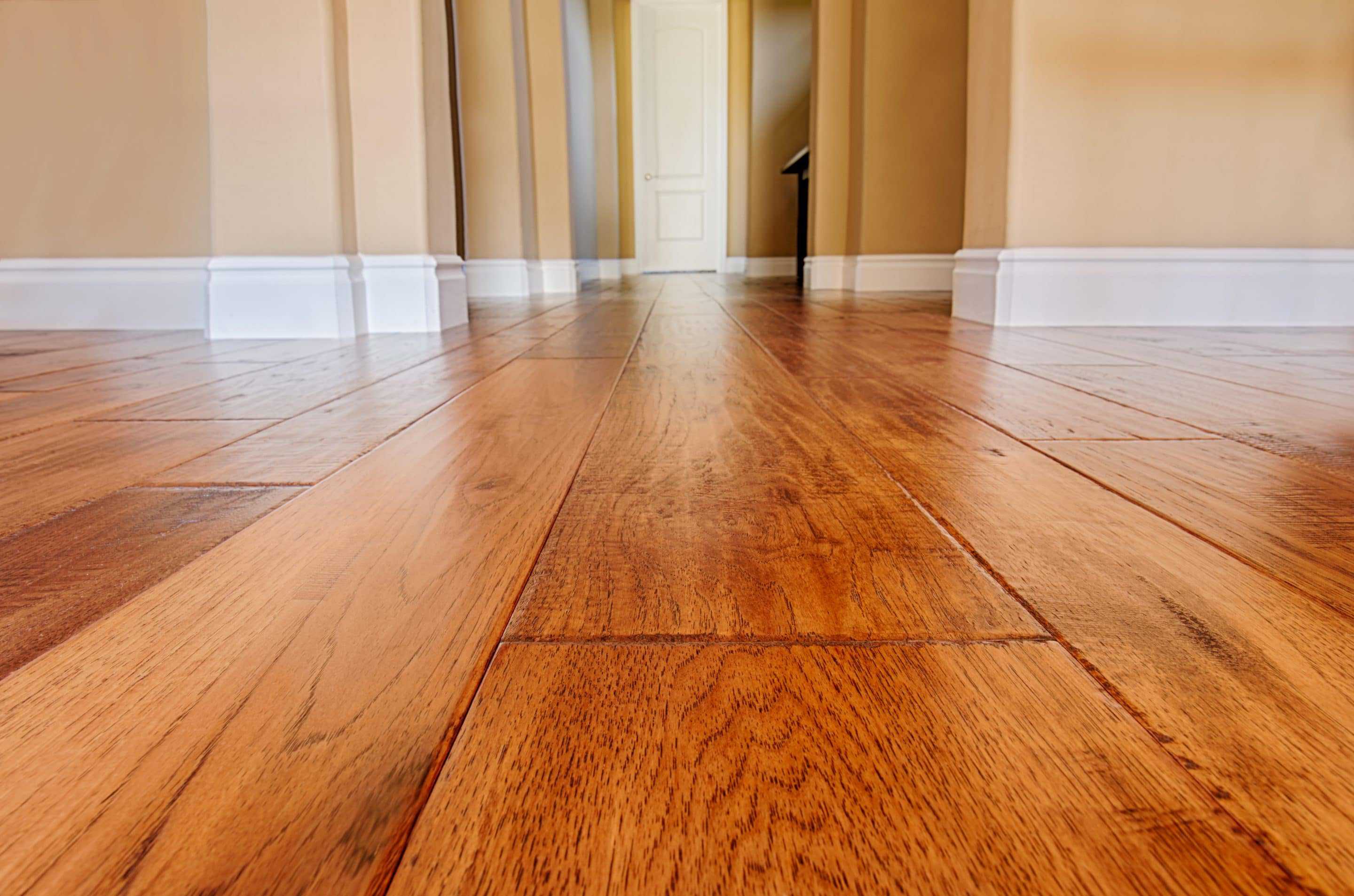 hardwood floor
Many users need a vacuum that features a cleaning mode to suit their floor type and can target a single room differently to another. When researching information for this Ecovacs Deebot N79 review, we discovered that the technology behind this vacuum is so advanced that you can choose any appropriate cleaning mode to suit the amount of spare time you have, battery life left, and more.
Specifically, the auto mode is a great go-to for a general clean to keep on top of dirt, dust, and hair on your floors. If you switch to the edge mode, it'll clean specific edges in your home. This is a great option if you have a pet whose hair can accumulate alongside the edges. But, this is also an ideal cleaning mode for a thorough tidy once in a while. Spot cleaning provides an intense clean to one specific area, which might be beneficial for a carpet or place in the home where people don't take off their shoes. Finally, the Max vacuum option is to remove stubborn dirt that has accumulated over the years, or that other cleaning modes can't tackle.
9. Cleaning Hardwood Floors and Carpets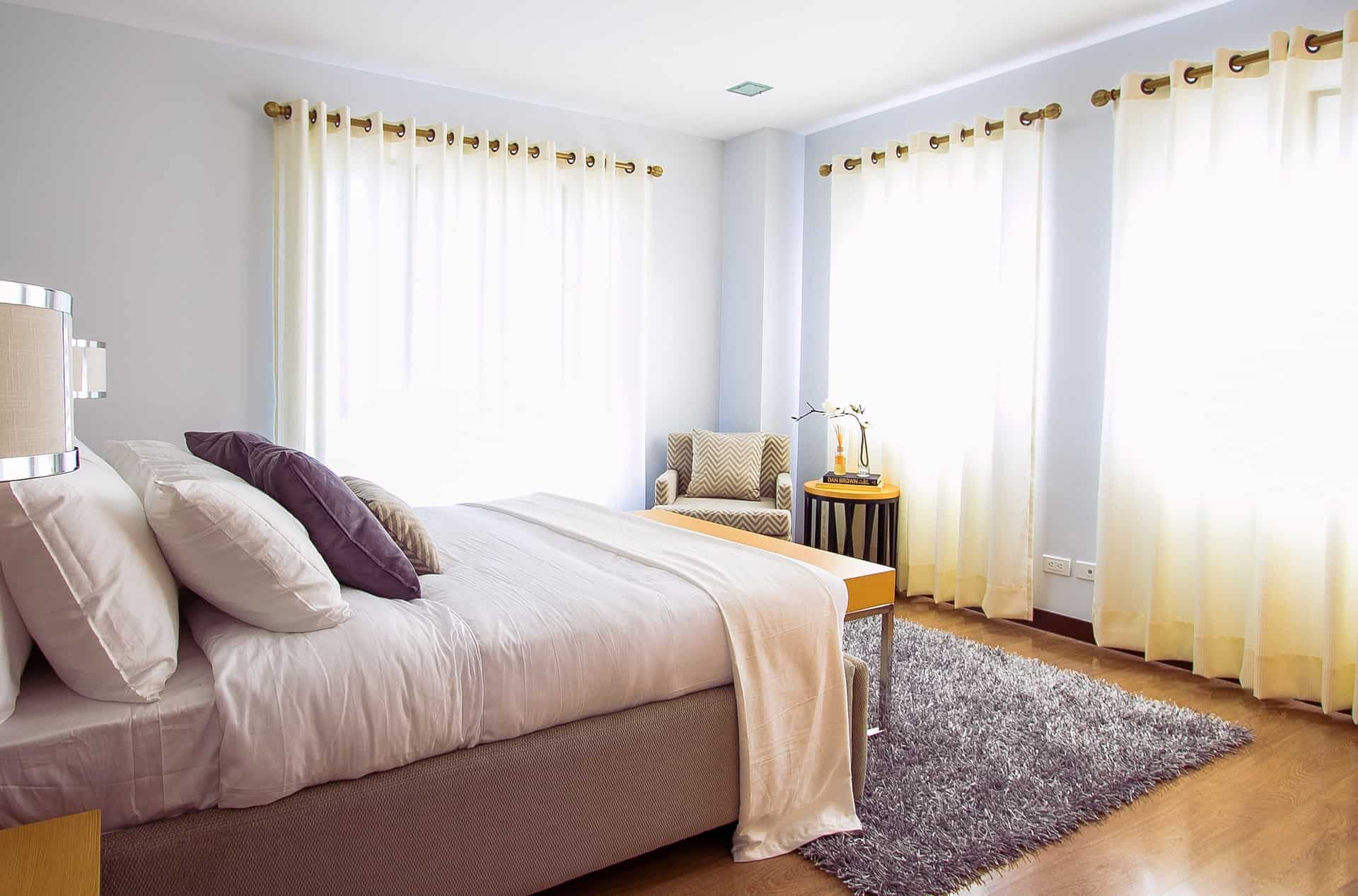 The most incredible feature of this robotic vacuum cleaner is that it can clean hardwood floors and carpets easily and accurately every time. The Ecovacs Deboot N79's design is to target different floor types because the engineers appreciate that most consumers don't have just one type of flooring in their home. Attach the two side brushes to target hardfloor surfaces or floors with a really short carpet. This is great if you have a mixture of both in your home so you needn't constantly adjust the brushes.
If you have longer carpets, you can switch the brushes to target this different type of flooring. We also found that no matter the type of flooring you have, this vacuum provides the same level of suction power on all floors, unless of course, you choose to change the cleaning mode to provide more or less power.
10. Can Operate Via a Remote Control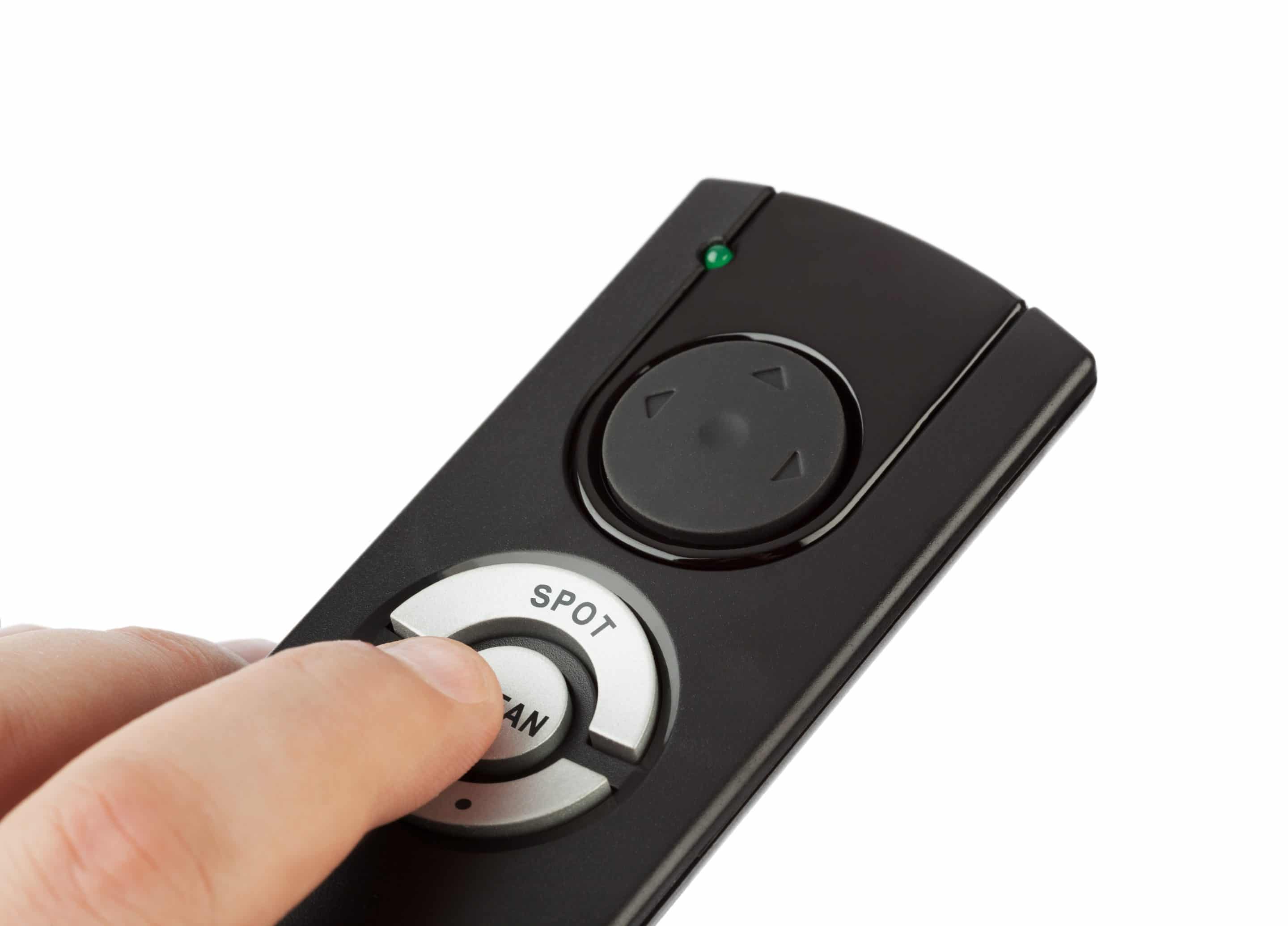 Remote control for vacuum cleaner
Think about how much easier cleaning would be if you have a remote control. When we were planning this N79 review, we appreciated how the feature of a remote control could give you more freedom to set the vacuum and let it go to work while you get on with other tasks.
However, you might find that you don't need the remote control, and that's perfectly fine too, but it's great to have the option there should you need it. You can sync the device to your phone and operate via the app instead. But should you consider using the remote, this gives you more options and power over how thorough the cleaning is. The remote is simple to use and only takes a couple of minutes to connect to the vacuum. The remote shows the time and presents what mode you're currently using so you have the option to change it at the press of a button. Some users also found that the remote is more responsive than using the app.
Pros and Cons of Owning an Ecovacs Deebot N79
Pros
Offers incredible suction and cleans in a reduced time compared to an upright vacuum
Easy to operate
Offers three cleaning modes to deliver an excellent job on all surfaces
Reaches hard-to-reach areas in your home
Automatically recharges, when required
Cons
Can struggle with different levels if you have multiple rugs in your home
Doesn't travel as fast all some robotic vacuum cleaners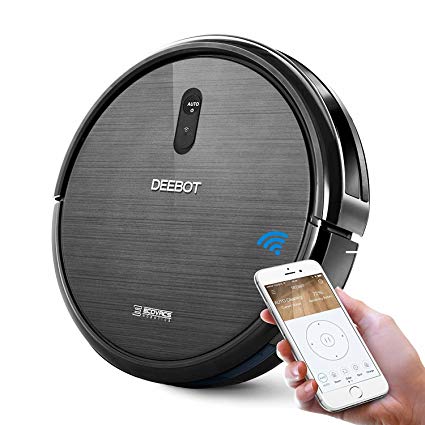 The Ecovacs Deebot N79 is one of the best robotic vacuum cleaners on the market, in the reasonably priced segment of the industry.
They take care of pet hair and dust, suck up Cheerios and popcorn, and take care of themselves by avoiding falling off of stairs, or damaging furniture or itself through bumping into things. The Deebot is more powerful than the average robotic vacuum and will save you hours of cleaning if you take advantage of the programming app that you can access through your phone or tablet. If you want to save time and money and always have a clean house, get the Ecovacs Deebot N79.
If you already own this smart robotic vacuum, we'd love to hear your thoughts and reviews on it. Share your feedback in the comments!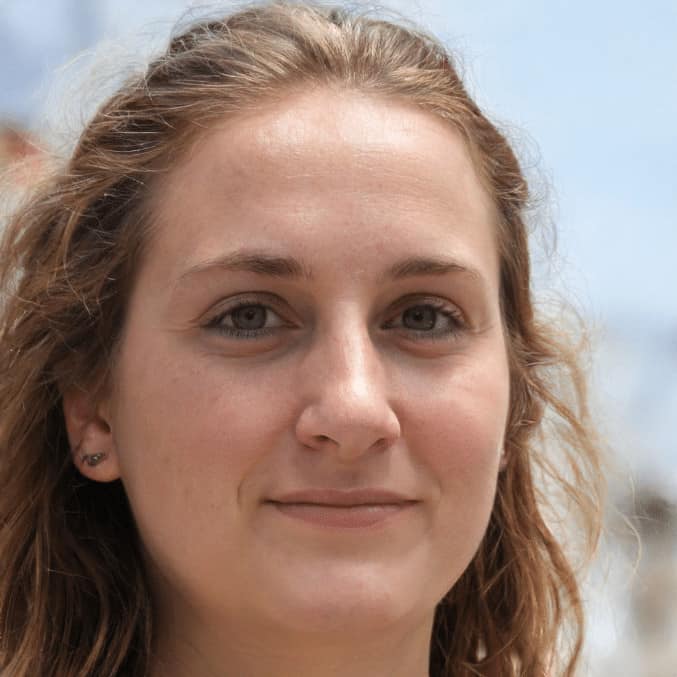 With a degree in engineering, Kathryn Hansen loves to write about how things work. Having her own dilemmas on how to pick the best vacuum cleaner for her large family (with a handful of furry four-legged members as well), Kathryn decided to help others in the same situation. After all, vacuum cleaners are critical to a healthy lifestyle and people have a hard time choosing the best one for their needs.