Dyson Pure Hot Cool Link Air Purifier is expensive, but excellent 3-in-1 unit, combining functions of air purifier, cooling fan and a heater in one single unit. It comes with many features, including excellent air filtration, long lasting air filter, automatic operation etc. Highly recommended unit not only to people having any issue with asthma and allergies, but for anybody wanting to improve the quality of air that one breaths.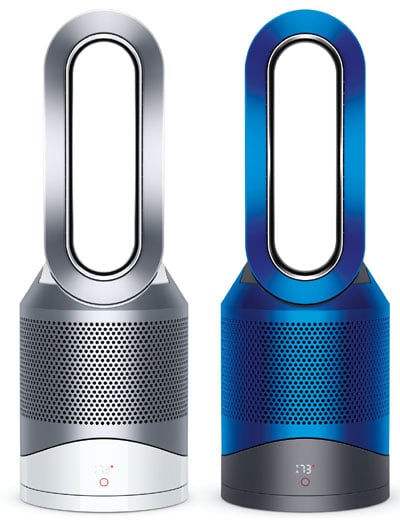 Dyson Pure Hot Cool Link Air Purifier is WiFi enabled unit and can be controlled via remote control and the Dyson Link smartphone application, which also provides a real-time air quality reports.
Dyson Pure Hot Cool Link Air Purifier operates as: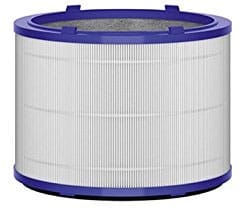 – air purifier – thanks to true HEPA filter and HEPA design, this is a true HEPA unit, capable of removing 99.97% of 0.1 micron particles or larger. Air filter has several layers – first one is made from H-13 HEPA borosilicate microfiber, which is pleated 333 times,  ensuring large filter area in rather compact design.
This filter mechanically removes 99.97% of particles as small as 0.3 microns. A dense layer of active graphite captures volatile organic compounds, odors and household fumes, while third layer of tris-coated graphite increases the filter's ability to capture potentially harmful gases like formaldehyde and similar.
Keep in mind that the unit is easy to clean, since there are no hard-to-clean safety grilles or exposed fan blades. And the unit should be cleaned from time to time – just wipe it using a cloth.
Unit is smart enough to warn the user when it is time to change the filter. Since the replacement filter is not cheap, it is good to know that on average it lasts for a year, when the unit operates 12h per day. Of course, this depends on other conditions as well.
Quality of the air in the monitored room and status of the unit is reported to the Dyson Link app, allowing the user to remotely controls the environment.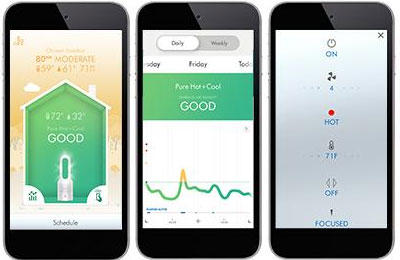 – cooling fan – unit comes with so-called 'Jet Focus Control' which enables the unit to expel focused or diffused air stream. Dyson Pure Hot Cool Link Air Purifier is designed to draw air from 360° allowing the unit to be freely positioned where required.
Note: this unit is NOT portable AC unit, being able to cool down the air and blow the freezing air around. It 'just' uses fan to circulate room temperature air.
To improve the area coverage, unit tilts easily – the body pivots around its own center of gravity, staying put without clamping. Also, thanks to the oscillation control, airflow can be directed around a room. And in the end, this unit is very safe, since there are no exposed moving blades and if tipped over, unit automatically stops with the operation.
– heater – during winter, unit can operate as a heater, warming the air via ceramic heaters. Maximum operating temperature of the heaters is 392°F (200°C), preventing the burning smell of any kind.
Dyson Pure Hot Cool Link Air Purifier automatically monitors the air quality and adjust required airflow accordingly. During winter, user just has to set the target temperature for the area, and unit will warm the air to keep the required temperature.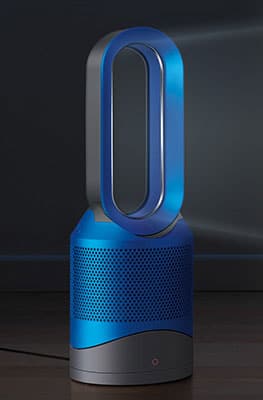 During the night, unit can operate in night-time mode, using the quietest settings. Also, in this mode led display dims. This way, unit can clean the air, while not disturbing people or kids while they sleep.
Unit's diameter is 8.7 inches (~22 cm) and height is 24.88 inches (~63 cm) and the weight is 8.62 pounds (3.9 kg). Since the unit is stationary, its weight is not a problem.
Power cord is 6 feet (~1.83 m) long and perhaps could be longer.
Long story short – Dyson Pure Hot Cool Link Air Purifier is excellent air purifier and can be used at home or at the office. Since it is very quiet unit, set it up and just monitor it using the Dyson Link app.
According the US Environmental Protection Agency, the average home air can be up to 5 times more polluted than the air outside – thus, if you or members of your family have any issue with the asthma, allergy or any similar problem, consider vacuums for asthma and allergies with HEPA air filtration and, of course, HEPA air purifier like this one. They can help significantly.
For more reviews and recommendations, check Dyson Pure Hot Cool Link Air Purifier
Amazon link (link opens in the new window).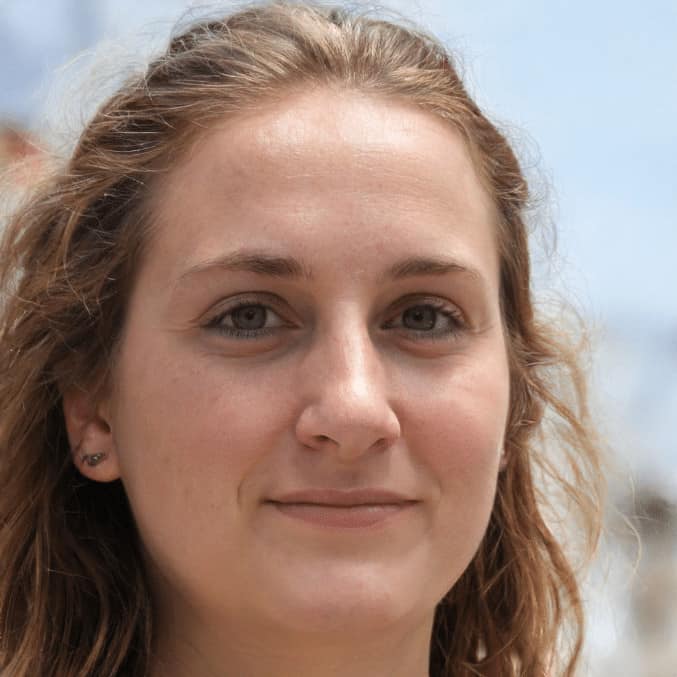 With a degree in engineering, Kathryn Hansen loves to write about how things work. Having her own dilemmas on how to pick the best vacuum cleaner for her large family (with a handful of furry four-legged members as well), Kathryn decided to help others in the same situation. After all, vacuum cleaners are critical to a healthy lifestyle and people have a hard time choosing the best one for their needs.