Dirt Devil BD30025B QuickFlip Plus Vacuum Cleaner is lightweight, versatile and affordable cordless, bagless, handheld vacuum cleaner. It is powered using 16V lithium ion battery, providing 13 minutes of operating time and fade-free power.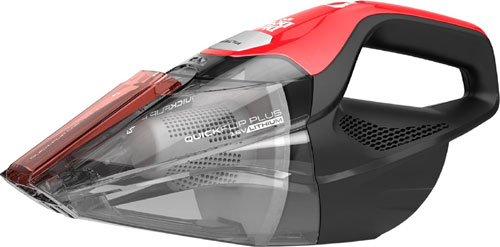 Dirt Devil BD30025B QuickFlip Plus vacuum weighs only 2.2 pounds (1 kg) and since it is ergonomically designed, it is very easy to use, even by kids (under supervision of adults) and elderly people.
Operating time of 13 minutes could perhaps be longer, but it is long enough to clean whole car or a truck, almost every emergency found at home caused by kids or pets, plenty of stairs and similar. And since the battery is lithium ion battery, unit operates at full power all the time.
When the battery is fully discharged, it takes 4-5 hours to fully charge it. Unit doesn't have charging station (it would be nice to have one!) – when charging is required, charging cable is plugged in into the unit. Charging process is monitored via charging LEDs.
Unit is ergonomically designed – unit's controls are on the handle, with center of the gravity below the handle, enabling the user to easily control the unit during operation. After all, it weighs only 2.2 pounds!
Dirt-air filtration is good, but it is not HEPA grade filtration. Filter housing protects the mechanical filter for larger and sharper debris which could damage the filter. Filter is washable, just be sure to properly dry it before returning it into the unit.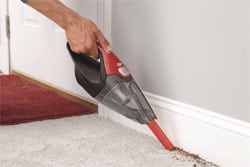 Note: unit is designed for dry debris only – don't vacuum moist or wet dirt and especially don't vacuum liquids. Such dirt and especially liquids can damage the vacuum.
After some time, filter should be replaced by the new one. Dirt Devil doesn't have suction or filter sensor, so it is up to the user to determine when it is time to change the filter – this of course depends on the vacuum's usage, but generally, change the filter after 6 months of use.
To familiarize yourself with the vacuum, it is highly recommended to read the manual before the first use. Unit is easy to use and maintain, but better safe than sorry.
Dirt cup is transparent, enabling the user to see the amount and the type of vacuumed dirt and debris. Dirt cup capacity is 0.5 liters and is large enough for vacuum of this size and class.
One of the excellent features of Dirt Devill BD30025B vacuum are on-board crevice tool and powered stair and upholstery tool.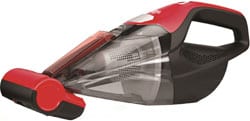 Powered stair and upholstery tool has its own brushroll motor. Brushroll is designed to clean various types of dirt and debris, pet hair included, from upholstery, stairs, carpets and similar surfaces.
Brushroll is not tangle-free, so it requires some maintenance (cleaning) from time to time.
Note that the powered stair and upholstery tool is not designed for grooming the pet!
Crevice tool is excellent for cleaning tight and narrow places, along the baseboards and edges, in the corners and similar. Crevice tool is used by simply flipping it into the operating position – hence the name of the unit 🙂
---
For its price, Dirt Devil BD30025B QuickFlip Plus is an excellent cordless, handheld vacuum cleaner. It comes with lithium ion battery, it has very good suction, great cleaning tools, standard air filtration and 2-year limited warranty.
It does lack some features which are often reserved for larger and more expensive cordless/corded vacuums.
In the end, it will get its job done – cleaning smaller messes, cars or trucks, in emergencies and similar. Pet owners will appreciate powered stair and upholstery tool – it cleans pet hair from upholstery and low-pile carpeting relatively well. We say 'relatively well' because in real life one should not expect that cheap cordless vacuum perform as good as full-size corded pet hair vacuum cleaner.
For more reviews and recommendations, check Dirt Devil BD30025A Quick Flip Plus
Amazon link (link opens in the new window).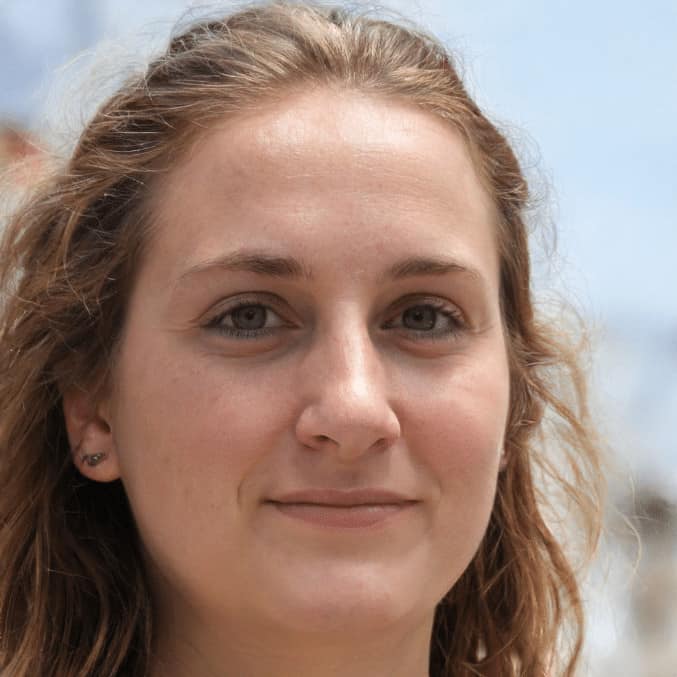 With a degree in engineering, Kathryn Hansen loves to write about how things work. Having her own dilemmas on how to pick the best vacuum cleaner for her large family (with a handful of furry four-legged members as well), Kathryn decided to help others in the same situation. After all, vacuum cleaners are critical to a healthy lifestyle and people have a hard time choosing the best one for their needs.