Black & Decker CHV1510 Dustbuster 15.6-Volt Cordless Cyclonic Hand Vacuum is reliable and affordable cordless vacuum cleaner with generally good suction and good air filtering packed in rather small and lightweight product.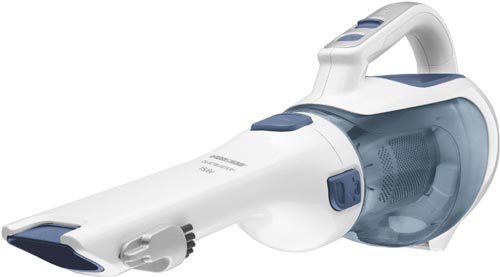 Unlike many new cordless vacuum cleaners which are powered with NiMH or Lithium batteries, B&D CHV1510 Dustbuster is powered with NiCd batteries offering great suction power, low price and somewhat lower capacity.
Although NiCd batteries suffer from memory effect, CHV1510 has energy star approved charging system which at the same time saves energy and helps protect its batteries. Vacuum cleaner operates at 15.6V and produces around 25 air watts.
CHV1510 uses removable and washable filters and 3 stage air filtration. Cyclonic separation spins dust and dirt away from the filter so suction power stays strong even when dirt bin is almost full.
Dirt bin is transparent and easy to empty, which is very important for small vacuums that are often used for emergencies (families with kids and pets know this very well). Dirt bin capacity is 20.6 oz.

CHV1510 Dustbuster has slim rotating nozzle able to reach dirt in tight spaces and the extendable crevice tool which increases reach even further. On-board brush is applied easily (just flip it up) and improves cleaning of various smaller and larger debris.
Being rather light (around 3 pounds, 1.35kg), dustbuster is easy to operate with only one hand.
Few notes:
– it is powered with cheap, but strong NiCd batteries that require time to be fully recharged. When bought or when fully discharged, let it charge for 24 hours. Yes, that is a full day. Lithium ion and lithium polymer batteries are great, but they do cost some money!
– don't expect that cordless vacuum cleaner with price just under 50$ operates for an hour without recharging. It can clean small messes rather quickly, but if you have a carpet to clean, buy 'normal' vacuum cleaner – cordless stick vacuums can be great choice, but good ones cost several times more than CHV1510 vacuum.
– vacuum cleaner comes with 2 year warranty, but this depends where one buys this vacuum. So be sure to check that before buying one.
– if you have several cars to clean and you need small vacuum cleaner, get one with cigaret lighter plug or some similar device – CHV1510 can clean the car rather well, but its suction and cleaning power are no match for suction of larger and more expensive vacuums.
– noise is acceptable, but it could be better, especially for battery operated vacuum.
Long story short – good, versatile, cordless vacuum cleaner at acceptable price. There are similar Black and Decker handheld vacuums, which are better, but they also cost more. Since the price different, IMHO, justifies the price difference, perhaps you should also check Black and Decker CHV1410L. It is powered by 16V environment friendly lithium battery, offering fade free power and other improvements.
Note: CHV1410L is powered by lithium battery (hence the letter 'L' in the name) and it should not be confused with CHV1410, which is powered by NiCd batteries.
For more reviews and recommendations, feel free to follow Black & Decker CHV1510 Dustbuster
Amazon link (link opens in the new window).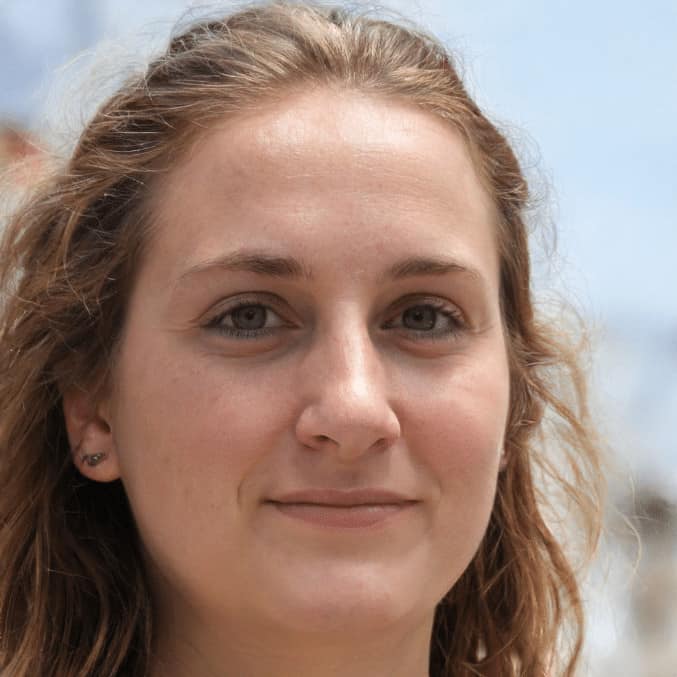 With a degree in engineering, Kathryn Hansen loves to write about how things work. Having her own dilemmas on how to pick the best vacuum cleaner for her large family (with a handful of furry four-legged members as well), Kathryn decided to help others in the same situation. After all, vacuum cleaners are critical to a healthy lifestyle and people have a hard time choosing the best one for their needs.