Black & Decker BDH1850SM and BDH 1855SM Steam Mops are two very popular steam mops due to versatility and acceptable price. Note that BDH1855SM is newer model and that Black & Decker has discontinued 1850SM model. However, both models are very similar.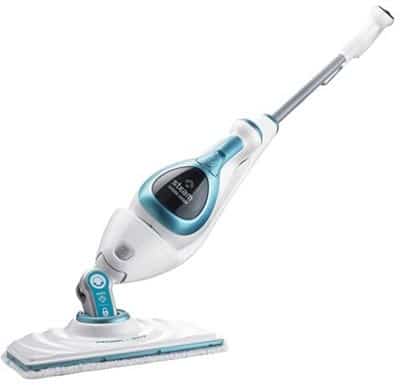 BDH1850SM 2-in-1 Steam Mop comes with two washable microfiber pads, resting mat, accessory bag with carpet glider, grout brush, detail brush, squeegee, fill cup, 4ft hose. It has 25 feet (~7.6m) power cord, weighs around 6.4 pounds (~2.9kg), tank capacity is 10.1 oz (0.3 l) and it consumes 1500W during operation.
BDH1855SM 10-in-1 Steam Mop with Fresh Scent comes with 2 steam mop pads, 3.5 feet (1m) hose, nozzle, detail brush, grout brush, squeegee, water cup, 3 fresh scent tabs and a clothing steamer.
When purchased, it is highly recommended to read the manual that comes with a steam mop. All steam mops are generally easy to use, but it is good practice to familiarize yourself with the new appliance, before turning it on for the first time.
One of the reasons why these models are so popular is removable hand held steam cleaner that can be used for cleaning counters, bathrooms, cooking surfaces and other areas using hose – hand held option practically eliminates hard to reach areas.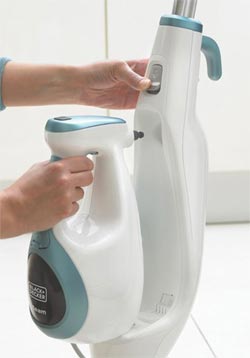 Steaming kills 99.9% of germs using only water in lab conditions, with no chemicals required. In real life, that percentage can be achieved (or surpassed) on hard surfaces by prolonged steaming, which is great for homes with kids and pets.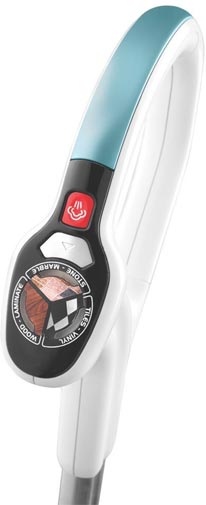 Digital SmartSelect Technology enables one to select the specific floor type (choose between wood, tile and stone), and the mop automatically releases the required amount of steam. These steam mops are considered safe for use on sealed hardwood floors, however, any cracks in sealant can lead to moisture entering the wood – this can lead to wood buckling, changing shape and even rotting.
Although most steam mops must be unplugged to stop water heater, MDH1850SM and MDH1855SM mops automatically shut off the steam when they are parked upright – very important feature for pauses during cleaning.
Both models come with swivel steering, helping steam mops easily maneuver around furniture, into corners, under beds, tables and similar.
Burst of Steam button releases up to 50% more steam on stone and tiles and 10% more steam on wood surfaces for cleaning tough stains. Again, be careful when using ANY steam cleaner on wood and laminate surfaces.
Microfiber pads are machine washable and reusable. They are removed easily by simply stepping on the pad. BDH1855SM model uses scent tab that disperses a fresh lemon scent for additional feeling of cleanliness. Use of scent tab is, of course, optional. Some people don't like using scents at all, however, scent is not strong – try it on small area and if you like it, use it…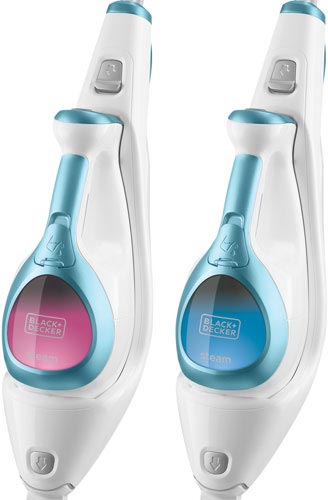 Ready-to-go tank illumination changes color of the tanks from red to blue when the water reaches the correct temperature. It takes about 15 seconds for a unit to become ready for use – very important if you are often stopped during cleaning (kids, pets …).
Steam mops and carpets – these steam mops can be used on carpets using 'carpet glider', however, it can be used only for 'carper refreshing', since they don't actually vacuum anything, nor they have required power heads for carpet cleaning.
Tap water can be used for cleaning, however, distilled water leaves no marks, scale or residue of any kind on the heater of on the floors. Also, vacuuming first is recommended on extra dirty floors to help remove debris and keep pads clean for longer.
Long story short – BDH1850SM and BDH1855SM are great 2-in-1 steam mops worth their money. If you don't like scents and you can get BDH1850SM model at discount price, don't think too long 🙂
For more reviews and recommendations, feel free to follow Amazon links (both links open in the new windows):
– Black & Decker BDH1850SM 2-in-1 Steam Mop
– BLACK & DECKER BDH1855SM 10-in-1 Steam Mop with Fresh Scent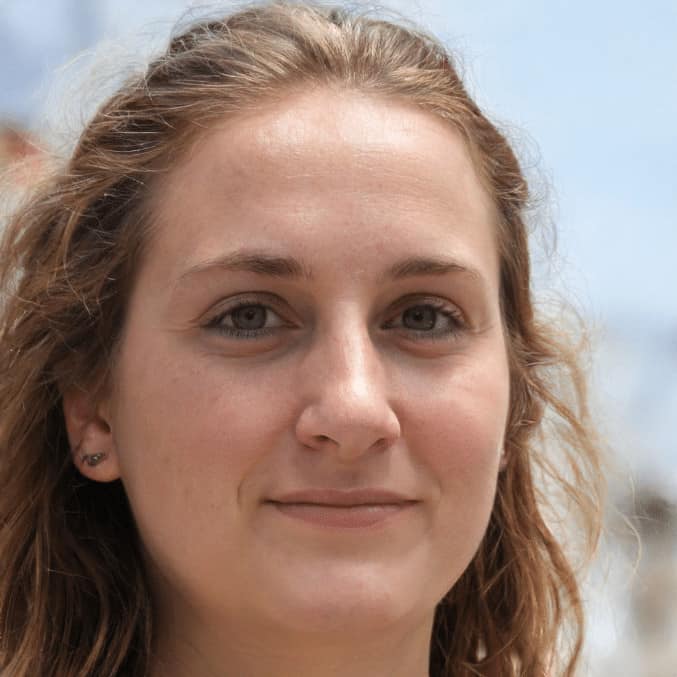 With a degree in engineering, Kathryn Hansen loves to write about how things work. Having her own dilemmas on how to pick the best vacuum cleaner for her large family (with a handful of furry four-legged members as well), Kathryn decided to help others in the same situation. After all, vacuum cleaners are critical to a healthy lifestyle and people have a hard time choosing the best one for their needs.