The BISSELL PowerFresh Deluxe Steam Mop is 'classic' steam mop, suitable for cleaning hard floors like tiles, stone, vinyl, but also hardwood and laminate, if the finish allows such cleaning. It uses the power of steam, combined with the scrubbing effect of the steam mop pads and gentle scent of the scent discs to clean and sanitize floors quickly and easily.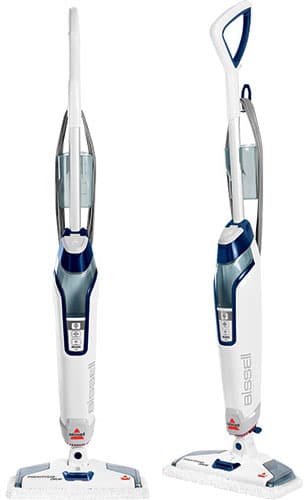 Steam mops like Bissell 1806 in lab conditions sanitize hard floors and eliminate 99.9 percent of germs and bacteria without the use of harsh chemicals – in real life, this result can be even better, if the mop is really slowly moved above the floor. Great, except that it would prolong the cleaning.
Bissell 1806 steam mop features a 25 feet (~7.6 m) power cord and can cover large area using single wall socket. Unit doesn't have automatic cord rewind system – cord is wrapped around the upper, quick release cord wrap, and the lower cord wrap. 25 feet of power cord wraps easily.
If longer power cord is required, one can use extension cord, just have in mind that this model draws 12 Amps of current.
On-board water heater requires around 30 seconds to start to produce steam – typical value for residential steam mops.

Water tank capacity is 19 ounces (560 ml) and it is not detachable – it can be easily filled with the measuring cup, which comes with the steam mop. It is recommended to use distilled or demineralized water and to avoid tap water – this will prolong units operating life and will not leave marks of any kind on the cleaned floors.
Scent discs can be used to leave a refreshing 'Spring Breeze' scent after cleaning. Scent is gentle and not many people complain about it strength. If one doesn't like them, they should not be used.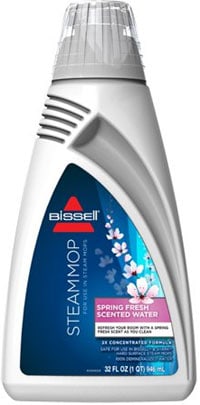 It is also possible to order Bissell Spring Breeze Demineralized Water – as one cleans, it leaves a refreshing 'Spring Fresh' fragrance, without the use of scented discs. Also, it creates no harmful fumes and leaves no dulling residue on the floors.
Depending on the floor type and amount of dirt, one can choose between high or low steam settings – note that controls are not on the handle, but little bit lower.
Fortunately, steam mop is not heavy – 5.7 pounds (~2.6 kg) empty and 6.9 pounds (~3.12 kg) with full tanks – and can be easily lifted to change the required settings.
Also, due to the light weight and swivel mechanism, Bissell 1806 mop can easily maneuver around and under the furniture and other obstacles and can clean hard to reach areas.
One of the interesting features of this mop is on-board so-called SpotBOOST brush, which is very helpful in removing tough and stubborn messes – very important for people with pets and kids.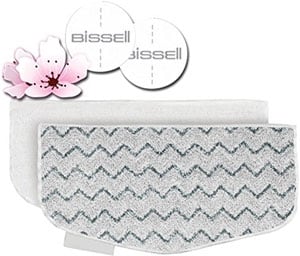 Bissell 1806 PowerFresh Deluxe Steam Mop comes with two different microfiber pads. The white pad is best for everyday cleaning of sensitive and delicate floor types like sealed hardwoods and laminate.
Note that such floors can be damaged with hot steam, if they are not certified for such cleaning – their finish/sealant must prevent steam from entering the wood, or the wood can buckle and even rot over time. Anyway, decrease the amount of steam when cleaning wooden floors.
The scrubby pad is best to use for scrubbing heavily soiled floors and cleaning tougher messes on tiles, stone and similarly very scratch resistant floors.
Mop pads can be machine washed in the warm water and reused. If required, scent discs and microfiber pads can be ordered separately.
To prolong the time between changing the steam mop pads, really dirty floors should be vacuumed first.
Few features that Bissell 1806 mop lacks, but would be nice to have:
– there is no carpet glide, so it can't be used for cleaning and refreshing carpets. However, even without it, some users use this mop to refresh and, up to the point, clean even carpets, mostly by pulling the steam mop across the carpets. If you plan on doing that, be sure that the carpet and the floor under the carpet tolerate such cleaning.
– there is no scrubbing system of any kind and the mop rely solely on the scrubbing motion provided by the mop user. This can be very important when cleaning stubborn and sticky dirt – fortunately, there is SpotBOOST brush.
These features are present on some other similar models, but they increase the price and mechanical complexity of the mops.
Bissell 1806 steam mop comes with 2-Year Limited Warranty, which is good warranty for such affordable unit.
For more reviews and recommendations, feel free to check Bissell 1806 Power Fresh Deluxe Steam Mop
Amazon link (link opens in the new window).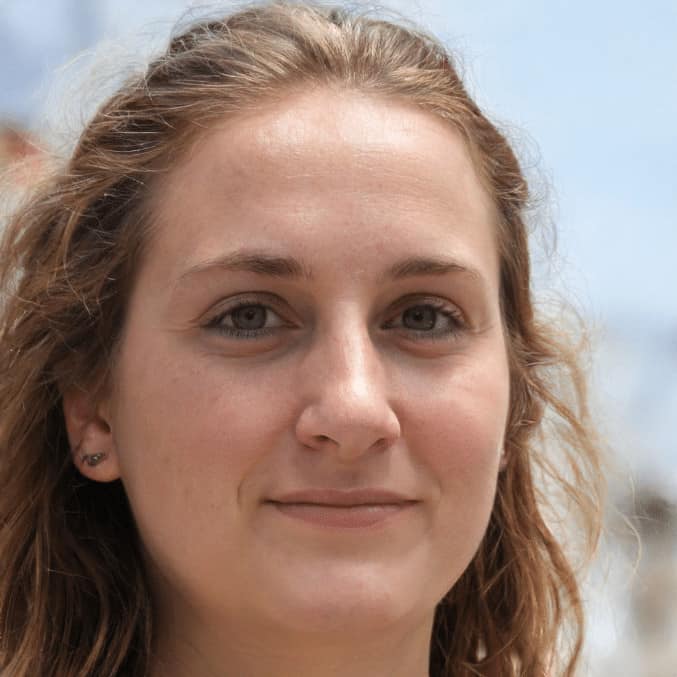 With a degree in engineering, Kathryn Hansen loves to write about how things work. Having her own dilemmas on how to pick the best vacuum cleaner for her large family (with a handful of furry four-legged members as well), Kathryn decided to help others in the same situation. After all, vacuum cleaners are critical to a healthy lifestyle and people have a hard time choosing the best one for their needs.