If you're looking for the best bagless vacuum cleaner to buy this year, you'll find that there are tons of options on the market. And many of them are often confusing. This is due to misleading marketing that might tout specs such as wattage as being a good measurement when in reality that only shows how much electricity the vacuum consumes.
With that in mind, we're going to look through several of the best bagless vacuum cleaner models and explain exactly what features made us love them so much. We aim to make these reviews as easy to understand as possible. Hopefully, you'll end up choosing the right vacuum for your particular needs after sifting through our buying guide.
What You Should Know About Bagless Vacuums
Bagless vacuums make your life much easier, as they do not have a bag that inevitably bursts dust into the air when you take it out. Instead, they have a dust cup that can easily be emptied into a trash bish without any fuss. As such, even smart robot vacuums qualify as bagless vacuum cleaners, which is why we will include them on our list.
Some of the features we recommend taking into consideration the most are as follows:
bins that are easy to remove and empty
a light above the brush (it comes in handy more times than you can imagine)
sensors that automatically detect changes in the surface if you plan on getting a robot vacuum
minimal charge time with great battery life if you're going for a cordless vacuum
automatically retractable power cable if you want a corded vacuum
Depending on whether or not your model comes with a disposable filter, another primary advantage of a bagless vacuum is that it comes with no additional costs down the line. Now, with all of that information out of the way, let's see which models have managed to impress us the most.
Best Bagless Vacuum Cleaner Models (Updated List)
We've chosen these models based on features, user reviews, ratings, critical acclaim, and the brand's history of making reliable vacuum cleaners of any type. Regardless of the type of bagless vacuum cleaner, we'll rank them based on everything else, including the convenience to use, efficiency, durability, and much more. Without further ado, let's get to it.
5. Roborock E4 Robot Vacuum Cleaner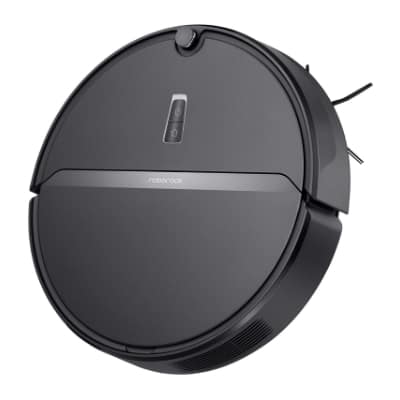 The Roborock E4 is a bagless vacuum cleaner for people who want the convenience of a machine cleaning in their place. While it doesn't have a dust cup as spacious as other models on this list, it's worth the money for the convenience, efficiency, and durability. In short, we view it as a great contender to the Roomba vacuum cleaners.
We like the fact that the battery can cover 2152 square feet of surface in a single run, and the charge time isn't all that long either. The intelligent sensors also adapt to surface changes and even height changes, so it won't fall down the stairs if everything is working properly.
et
Pros
The vacuum is surprisingly quiet even when it's not set up to work in quiet mode
It has powerful and accurate suction, as it is able to suck even hairs and dust that have been sitting on the floor for a few days
Has the option to schedule cleaning cycles so you can set it to do its job when you're not at home
Automatic docking feature allows it to go back to its charging station by itself when the battery is low or when it's done cleaning
Cons
Some have complained that the app isn't too user-friendly
Syncing the app with Amazon Alexa is quite hard if you don't have the manual handy
Verdict
Being a robot vacuum cleaner, the Roborock E4 offers a lot of convenience for the average user, as it allows you to schedule the cleaning time. With that said, you need to be aware that you can't use it as a traditional vacuum.
If your house is huge and you need to vacuum on top of furniture and whatnot, we only recommend this as a secondary vacuum that cleans floors. Other than that, the vacuum itself performs as advertised.
4. BISSELL Cleanview Bagless Vacuum Cleaner
We like the BISSELL Cleanview bagless vacuum cleaner is powerful and efficient, with multi-cyclonic suction that keeps dust trapped inside. It has a large capacity tank that can be emptied with the push of a button. As for the filter, it is washable by hand and has a multi-threaded filtration system to keep it clean for longer periods of time.
The vacuum itself is specialized for hard floors, so while it won't necessarily do as great of a job on carpets, but it still holds up good enough for most people's needs. What's more, we like that you can order two extra drive belts directly from the product's sales page, so you can enjoy having spare accessories from the get go.
et
Pros
The vacuum is affordable and the price itself can be considered a bargain considering what you get
On board storage keeps all the specialized tools and accessories at the ready while cleaning
Multi cyclonic system for lasting suction that captures and keeps dirt in the bin
The combination of a 25 foot power cord, a 6 foot hose and a 13.5 inch cleaning path provide an extended cleaning reach
Cons
The cord isn't well made, as it has problems retracting or extending at times
It would've been nice if the vacuum had a button to shut off the spinning brush when using the hose part
Verdict
Even though the BISSELL Cleanview isn't a cordless model, it's a bagless vacuum cleaner that doesn't get in your way thanks to the fact that you can easily carry it by hand.
While the cord does have a problem retracting or extending at times, it doesn't happen often enough to not warrant a spot on this list. So, if you're shopping on a budget, this vacuum might be the right choice for you.
3. eufy by Anker BoostIQ RoboVac 11S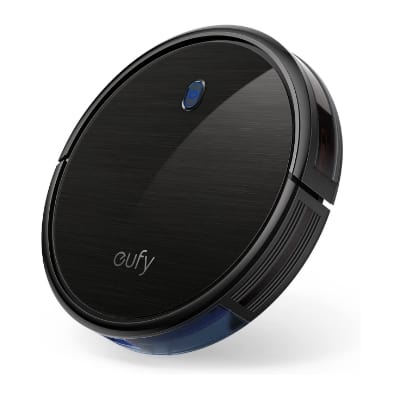 What makes this bagless vacuum special is the fact that it does the job on its own. With its patented BoostIQ technology, the eufy automatically increases suction power within 1.5 seconds when extra vacuuming strength is needed to get the best cleaning effects. But by far one of the best parts is that it makes no more noise than a regular microwave.
As you can tell, the efficiency is top-notch, but the looks aren't a slouch either. The top is covered with anti-scratch tempered glass, so it will always look good even after years of use. Not only that, but it also has large wheels that roll over carpets and climb over door ledges to get to the mess without hiccups. And, finally, RoboVac uses drop-sensing technology to avoid falling downstairs and off of ledges.
et
Pros
It works with any smartphone through the built-in app that's intuitive to use
The robot vacuum can fit under any couch or bed, so it's easy to tuck away when not in use
Many people have lauded the company's customer support for solving issues in little time
Very long battery life, can cover most of a 2,700 sq ft house in one go
Cons
It will eat your phone cord if you don't pick it up and Eufy won't be able to let go
The roller brush can be hard to clean if your eufy is picking up a lot of long hair
Verdict
A simple yet efficient robot bagless vacuum cleaner, the BoostIQ 11S adapts to most floor surfaces and carpet types so it's a good fit in just about any type of home.
It comes with included batteries for the remote and with all the necessary accessories out of the box. And the printed manual is a nice addition because you can have it handy whenever you need it.
2. Eureka NEU182A PowerSpeed Upright Vacuum Cleaner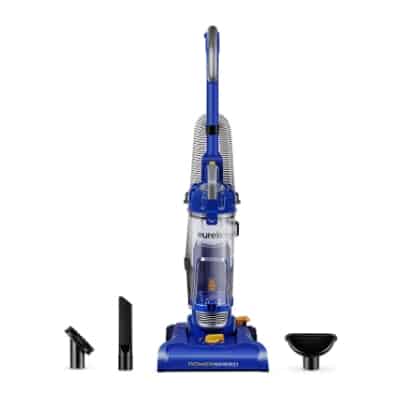 With a powerful motor that can deep clean even fluffy carpets, the Eureka NEU182A is lightweight yet highly efficient. It has an extra-large dust cup so you don't have to empty it nearly as often, even if it captures a significant amount of dust from all surfaces. Practically, it offers almost as much of a care-free lifestyle as a robot vacuum thanks to the fact that you can barely feel its weight.
However, the below standard weight also comes with the disadvantage of making it easy to topple over. We recommend careful handling when carrying it as to not chip the plastic material. Otherwise, there really isn't nothing we can complain about it. Oh, we the five height settings really make it easy to adapt to anyone's needs.
et
Pros
The dust cup has a capacity of 1 liter, thus allowing you to clean for significantly more time than others in this price range
It's got a quick-release handle connected to the stretch hose for above-floor cleaning
Several other accessories for multiple purposes, like reaching packed areas or around corners and crevices
Smooth wheels ensures hardwood floors won't sustain scratches or gouges
Cons
The plastic seems kind of fragile; you might need to handle it with care
Because of the light weight, you need to be careful not to topple it over
Verdict
You will totally love the suction and cleaning power of this absolute unit. When looking for a bagless vacuum cleaner, do yourself a favor and give this one a shot if you can. If you don't like it, you can still return it within 30 days of your purchase.
All in all, it's a great vacuum cleaner if you're careful not to topple it over. Other than that, it's easy to use, efficient and doesn't consume too much electricity. You might even save money in the long run thanks to its efficient filter.
1. Hoover MAXLife Pro Pet HEPA Bagless Vacuum Cleaner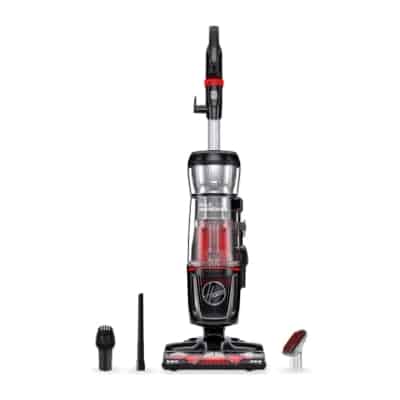 If you want a top-of-the-line bagless vacuum cleaner, you really can't go wrong with the Hoover MAXLife Pro Pet. This HEPA-equipped vacuum is astounding, to say the least. It can suck up to 99.7% of all dust, allergens, and particles while preventing them from reentering the air.
Furthermore, it's got multi-tools that are perfect for trapping pet hair, so you'll also be able to minimize unpleasant odors inside your home without having to rely on cleaners. It's also got high-intensity LED headlights on the brush so you can easily see if you've missed a dust spot or simply be able to clean better in dimly-lit corners of the house.
Pros
The price is quite affordable, especially when compared to other similar models
It's got amazing suction power, being able to pick up even the tiniest specs of dust found all around your home
Multipurpose tools work great and allow you to easily reach places that you wouldn't normally be able to
Has a large easy to empty dirt cup, which means less trips to the trash can for a more convenient cleaning process
Cons
It's a little on the heavy side, so not totally recommended if you're weak
The swivel might take some time getting used to especially if you haven't owned such a vacuum in the past
Verdict
There's no contest whatsoever. The Hoover MAXLife is truly our greatest choice for the best bagless vacuum cleaner, as you can clearly see from the feature set above.
Even the cons of this unit aren't necessarily cons on their own, as most people can easily adapt to the weight and to the swivel within just a few minutes of practice.
The Bottom Line
Did you decide which one of these is the best bagless vacuum cleaner for your needs? In case you haven't, know that any one of them is a great choice, so don't feel constrained about one aspect or another. Decide what budget you have and what features are more important for you then go for it.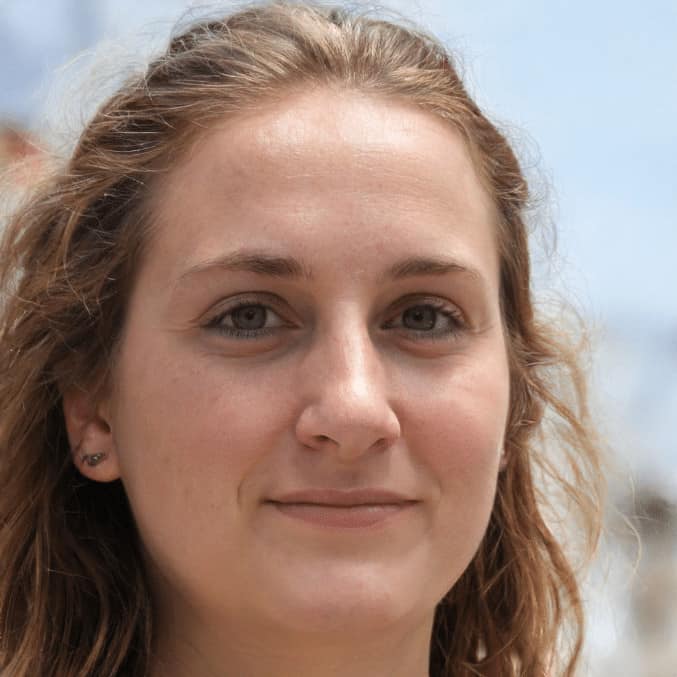 With a degree in engineering, Kathryn Hansen loves to write about how things work. Having her own dilemmas on how to pick the best vacuum cleaner for her large family (with a handful of furry four-legged members as well), Kathryn decided to help others in the same situation. After all, vacuum cleaners are critical to a healthy lifestyle and people have a hard time choosing the best one for their needs.