When you're searching for a new vacuum cleaner, it's important to read reviews to find the best options. You're probably familiar with a lot of brands, like Hoover, Dyson, Bissell, and Black and Decker. You've used some of those brands, maybe even for years. We've got a series of vacuums we think you should consider, from one of those well-trusted brands: the Dyson V6.
One of our favorite vacuum series is the Dyson V6. Let's explore the background of this highly-recognized brand and qualities that make each model so respected. There are so many reasons to purchase from the Dyson V6 series, and we can't wait to share these specifications with you, but first, let's look at the history of Dyson.
The Dyson V6 Series
A History of Dyson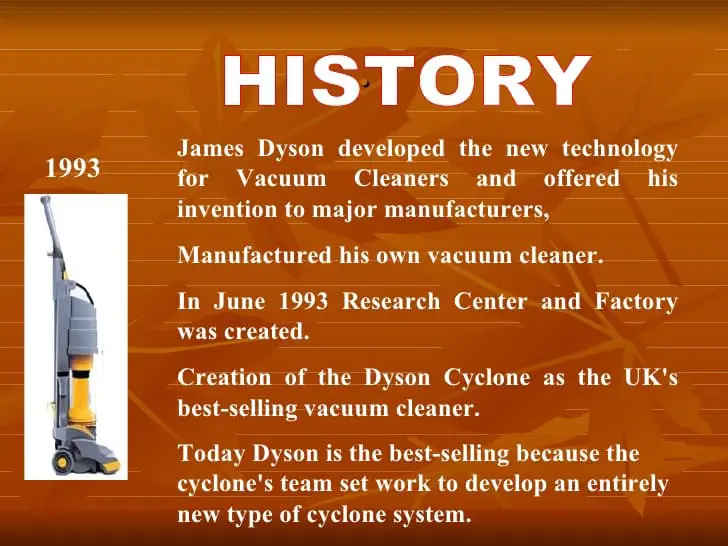 Photo credited by: slideshare.net
In 1987, James Dyson founded Dyson Limited. Previously, he had noticed a problem with vacuum cleaners. They used messy bags that often impeded the suction function of the vacuum cleaners. Dissatisfied, the man looked for inspiration and a solution. He found this at a local sawmill, as he watched the sawdust removal system. This system removed the sawdust from the mill's air through large, industrial cyclonic system.
This kind of technology had never been applied to vacuum cleaners before, but Dyson saw its use, tried it out at home by jerry-rigging together a cardboard cyclone, and found this simple fix far more productive than the typical bags in vacuum cleaners.
Dyson found little success with his technology, to begin with, but as the years passed, his ideas were proven viable. And now, Dyson is one of the most well-known vacuum cleaner manufacturers in the world.
A Dyson V6 Review 
The V6 is basically an updated version of the Dyson DC59 Animal. It's a lower cost version, with fewer attachments, but most people say they'd rather have this new version, even with the fewer attachments.
Since the Dyson V6 series works beautifully, we're good with these new changes. Let's take a look at our favorite V6 models, and talk about the main features and specifications on each of them.
The​​​​​​ Dyso​​​​n V6 Absolute
No products found.
Performance
The Dyson V6 Absolute produces an incredible suction power, especially when compared to other cordless cleaners on the market. You might wish to use the standard power mode for daily clean-ups and picking up excess pet hair and dirt from your floors. But, if you're looking for a more intense clean, we recommend switching to the maximum mode, which increases the suction power to its maximum capabilities. This is an ideal option if your floor requires a thorough clean or you're conducting a spring clean and want to wipe up dirt from those hard-to-reach areas in your home.
Flooring Type
The Dyson V6 Absolute performs at its most comfortable on carpet flooring, and the brush-bar rotation provides more air power so that the vacuum can pick up any mess in its radar. Alternatively, you may wish to switch the settings depending on the length of your carpets. The stiff bristles in this cleaner create an incredible job at digging deep into the carpet's fibers to abstract any hidden dirt.
This cleaner also reaches right into the edges to provide a thorough clean and not just pass dirt to the sides. As a result, the Dyson V6 Absolute does a great job at picking up even the smallest particles hidden in the corners of your room. The design is even powerful enough to reach into cracks in your home without you changing the vacuum head to another attachment.
The V6 Absolute is a great go-to vacuum cleaner for a wide range of flooring types, including tiles, floorboards, laminates, and carpet. With an easy-to-control head, you can adjust the setting to a mode that suits your cleaning needs, whether that's an intense cleaning session or merely an everyday touch-up. On the other hand, some customers found that the V6 Absolute didn't perform at its best on smooth surfaces such as vinyl, because this vacuum cleaner is designed for more textured flooring types. Therefore, we suggest switching to a lower setting for this type of flooring.
Targeting Stairs
As crazy as this might seem, not all vacuum cleaners can clean stairs that well. Most struggle with the awkward angles and edges, but the V6 Absolute is an ideal appliance if you have steep stairs in your home or perhaps a lot of them. With no cord, you don't have to balance the vacuum on stairs or awkwardly step over the cord. This also makes vacuuming much safer compared to cleaners with a cord. The V6 Absolute is fairly lightweight too, especially given its capabilities and chunky designs, so it won't hurt your hand to hold it in place while you clean the stairs. Overall, this vacuum cleaner can twist and twist to get right into the corners so that your home is clean and tidy all over.
But should you wish to target more gaps and lift years of dirt from the corner of your stairs, you can attach a smaller tool clip that is compact enough to get into most crevices. But, this attachment still offers the same power as without, so there's no compromising the overall results. 
Collecting Pet Hair
Pet hair can be a nightmare for most vacuum cleaners, but the V6 Absolute saves the day in this category. It's also one of the most pet-friendly cordless vacuums on the market as it isn't too loud that it'll frighten your furry friend. The main reason why this vacuum can collect huge clumps of hair is down to the tough bristles that dig out hair from carpets. 
We're also impressed that this vacuum cleaner can collect hair balls from off of hard floors and you also have the option of switching to different modes depending on the level of intensity you're looking for. Although, compared to some of the other Dyson V6 series vacuums, it's not the most impressive at this task which is something to consider if you have multiple pets that shed hair.
The Dyson V6 Slim
Performance
The V6 Slim vacuum cleaner has an incredible wattage that might seem low when you first switch it on, but will pleasantly surprise you once the vacuum's been running for a few seconds. With an incredible design that allows you to convert the upright vacuum to a handheld device, this offers great ease and simplicity to improve your cleaning sessions while ensuring that you perform a thorough job of every surface. 
The Dyson V6 Slim has two settings to suit the cleaning style you want. Therefore, you have the option to switch from a regular cleaning mode or a maximum one. Bear in mind that a maximum clean might sound like a great plan to improve your home's appearance, but this can be tough on rugs as the suction is so powerful. Specifically, the maximum setting is four times more powerful than the normal mode so this helps to put the suction into perspective for you.
Weight and Storage
We're certainly impressed that this slim vacuum cleaner can be so powerful for its weight and size. If you're not looking for a heavy, robust appliance, this is an ideal option to easily navigate around your home. This is great for elderly people, if you have a house with plenty of different levels and rooms, or if you're merely searching for an ergonomically-friendly design. This machine is much easier to transport around compared to the V6 Absolute, and not every consumer is looking just for ultimate suction power, but mobility and comfortability from an appliance too. 
Storing this appliance is easy too as it's supplied with a wall mount that you can screw anywhere in your home. As a result, you don't have to store the vacuum in the corner of your room on display but can rely on it always being to hand every time you need it. This is also an ideal feature if you have limited storage space in your home. 
Flooring Type
It's important to know what flooring type your vacuum cleaner can cater for as many homes have more than one surface type. This cordless slim vacuum performs an incredible job on a variety of flooring types so you'll never find that you have to switch to another machine for wooden floors. 
If you use it on carpet, the maximum suction power performs a better job than the normal mode, and you'll find that you don't need to repeat the same spot over and over again to achieve the desired results you're looking for. You can also achieve a really deep clean on carpets to lift the fibers and make it look like they've been professionally cleaned. This machine will also comfortably lift any pet hair embedded into the carpet fibers, but you might need to go over the section a few times to see the best results – though the results are definitely worth the extra effort. 
We're impressed that you can use this slim vacuum cleaner on hard flooring too and it seems to have no issues when picking up fine debris and small particles; it doesn't push small pieces of dirt to the side but lifts them for a thorough clean.
Accessories
The Dyson Slim vacuum cleaner comes with an array of tools to provide an excellent cleaning session, and make your life easier. Rather than having to fight dirt and put in a huge amount of effort, these cleaning accessories put in the work for you. Each attachment slides onto the end of the vacuum easily and they're ideal for reaching corners or where a carpet begins and ends.
We recommend using the crevice tool to remove cobwebs from your home as not only is the nozzle a great size to do so, but the Slim's height is appropriate for reaching ceilings and the corners of rooms. If you want to clean your car and furniture, you can switch to a finer attachment that will pick up any tiny particles embedded into the surfaces. However, this tool is also soft and fine enough to suck up any loose food or crumbs on your kitchen floor.
The Dyson V6 Animal
No products found.
Performance
One of the most important features of a vacuum cleaner is the performance, although this is sometimes a lot harder to measure than you might assume. The suction on the Dyson V6 Animal is powerful enough to clean a busy household with children and pets running around. Many cordless vacuums are good at sucking up dirt but not so successful at storing the dirt, dust, and hair in a container that is leak-proof and easy to empty.
The Dyson V6 Animal is dedicated to efficiently cleaning a busy household, and breezing through numerous rooms becomes a simple task. This vacuum cleaner is defined to make cleaning less tedious and more effective so that you can enjoy more of your free time. The V6 Animal can effectively collect dust, dirt, pet hair, grime, and crumbs from hardwood floods without much effort and help you keep on top of housework. You can even use it on car seats, the minivan, and on the sofa without much of a struggle. 
Battery Life
Admittedly, the battery life on the V8 Animal isn't one of the best compared to some other cordless vacuums. However, 20 minutes is a respectable time to undergo a cleaning session around your home with no disruptions. To fully charge this device, it requires just over three hours of charging, which might seem like a large amount of time, but is easy to do if you get in the hang of charging after each use.
If you choose the maximum option for the suction power, you will get six minutes less out of this vacuum, although that's not necessarily a large portion of time to lose considering that you'll probably spend less time cleaning on a high-performance setting anyway.
Flooring Type
The Dyson V6 Animal has a 75 percent brush-power increase compared to the other products in the Dyson V6 series. This brush performance is a great advantage to use on carpets, and a great go-to vacuum cleaner if your home is mainly carpeted. But, we're also impressed that it performs exceptionally well on bare floors too. As this type of flooring doesn't require much suction power to accumulate the dirt and dust, it goes without saying that if this machine can collect pet hair and large clumps of dust from carpets, it can also succeed in bare floors. Sometimes, brushless vacuums still leave dust particles on the floor, but having a brush action improves the amount of debris you can collect from your surfaces.
You'll also encounter that the standard cleaner nozzle is great for targeting stairs and has an appropriate width so you can clean any entire step in one action. Consequently, you'll spend less time with each cleaning session and improved results.
Filtration
The filter on this specific Dyson model is impressive. The filtering system is washable, and you should thoroughly clean it out with water once a month and allow to dry for around one day. Religiously performing this task ensures that you increase the life-span of your vacuum and don't have to renew any parts.
This is also an ideal vacuum cleaner for people who suffer from allergies and asthma. This model comes with a HEPA filtration that traps any allergens found in the air and on floor surfaces and prevents them from escaping. The HEPA filter is unique to Dyson and is combined with a machine filtration to ensure that anyone suffering from allergies is protected in their own home. One factor to consider is that this bagless design can make emptying the vacuum a little tricky and messier than with other models.
The Dyson V6 Fluffy
Performance
The Dyson v6 Fluffy is one of the most overlooked models from the Dyson V6 series. The V6 Fluffy has one of the most powerful suction of any cordless cleaners, and that's even when you use the normal cleaning mode. But, if you want to achieve a spotless finish for your home, this Dyson product also offers a maximum mode that is the most powerful of all the Dyson V6 Series. 
We're impressed that this vacuum cleaner can handle many different sizes and shapes of particles on the floor – from talcum powder to human hair. While some cordless vacuum cleaners tend to leave small residues on your floor, the V6 Animal always leaves an immaculate finish. 
Even on the lowest suction setting, this machine pulls up dust from cracks and crevices and is proven to work effectively on short and mid-pile carpets. With minimal effort required, you'll have dust-free flooring in no time. This cordless cleaner also gets up close to edges and the upholstery and dusting brushes are effectively designed to be light and long to reach high and low cobwebs. The crevice tool has a thin nozzle so you can receive high power and direct the suction toward your target area.
Battery Life
Similar to most Dyson V6 series' vacuums, the V6 Fluffy battery lasts for 20 minutes before the charge runs out. If you have more carpets than hardfloor in your home, you'll encounter four minutes less as the vacuum requires a motorized floor tool for carpets.
Consider that you'll need additional power for stubborn dirt and dust, but switching to the maximum cleaning mode shreds a further six minutes off of the overall time. This minimal time can put a strain on your cleaning sessions as you need to get through them fast. However, if you have a limited number of rooms or use the vacuum regularly, this amount of time is more than enough for a clean home. 
One major advantage of the battery in the V6 Fluffy is that it charges quicker than the other models. Also, the battery is made from lithium-ion, which means that even as the battery runs low, you won't lose any suction power.
Attachments and Accessories
The Dyson V6 Fluffy comes with an array of attachments and accessories that enable you to clean all around your home. All of these included tools are easy to attach to your vacuum and just as simple to remove once you've finished with them. This Fluffy model comes with a motorized pet hair tool that enables you to remove pet hair from carpets, wooden floors, sofas, and other fabrics. This is ideal if your pet sleeps on the bed with you.
Furthermore, the Fluffy model also comes with a crevice and multiple dusting and upholstery tools to provide an efficient clean for around your home. The vast combinations of floor heads and accessories make the V6 Fluffy a versatile and reliable model for everyone.
Fluffy Head
For cleaning all floor types, you'll use the fluffy head that comes as a standard floor head for this vacuum. It features stiff bristles that can get deep into carpet fibers and collect dirt, pet hair, and dust particles.
This head is great for cleaning carpets and the soft roller cleaner head is an ideal choice for cleaning hardflooring. The soft head is made from nylon that is woven together to enable large particles to pass through the head while also allowing enough room to collect small elements of dust. This soft head also collects any carbon fiber elements and works hard to prevent any static build-up that might ordinarily stick any dirt to the floor.
The Dyson V6 Trigger
Performance
You can't deny that the Dyson V6 Trigger has incredible suction power. The 350W motor is three times more powerful than motors of most vacuum cleaners from other brands, and this suction power is constant, no matter if the battery charge is high or low. With the high-powered motor and cyclones, you'll get around 17 minutes of power with the maximum cleaning mode that'll target dirt and dust deep down into the carpet fibers. On the other hand, if you stick with the regular mode, the V6 Trigger offers around 20 minutes of battery life.
Most handheld vacuum cleaners are designed more for portability than power but don't be fooled that the V6 Trigger won't suck up stubborn dirt. However, it doesn't provide the best results on pet hair. But it is an ideal purchase for one-spot messes that you can remove quickly and conveniently.
Design
This handheld vacuum is evidently designed for portability, but not all of these types of appliances are as well-made as the V6 Trigger. It's designed to conveniently vacuum the car, the sofa or on the stairs. You can even get into all awkward spaces behind furniture and under and around the fridge with no bother at all. In fact, the design is the most important feature of the V6 Trigger. It won't remove tough stains from carpets, but it will target every nook and cranny in your house with ease.
Usability
The V6 Trigger makes vacuuming so convenient and efficient, and the one-touch bin feature for emptying easily and hygienically cleans out any dirt and dust. You just then need to remove, wash and replace the filter every so often to improve the lifespan of this product.
Weighing only 3.8 pounds, this vacuum cleaner is ergonomically manufactured and comfortably fits in your hand while in use. Some handheld vacuum cleaners can create pressure on your fingers and wrist, but this device has your usability in mind so you can grab the vacuum and get cleaning.
The V6 Trigger is extremely quiet, especially when compared with other handheld vacuums on the market. Measuring only 89 dB, it has a low volume for such a powerful appliance that won't disturb the rest of the household while you're cleaning.
Suction Power
This is certainly a great product to choose if you have pets and are tired of cleaning up pet hair every five minutes. It gets to work fast and sucks up any pet hair it finds along the way. When any hair collects inside the brushes, they are easy to clear as you remove the brushes and untangle the hair. 
The combination tool is a two-in-one attachment that is great for multi-tasking and saving time when cleaning. Use the crevice tool for narrow spaces such as next to the fridge or nooks and crannies in your car. The long nozzle enables you to reach down far to target these tight spots and collect any dirt and debris you can spot. The stubborn dirt brush is ideal for loosening any dirt from thick carpets or on front door mats. This brush features coarse bristles that enable you to brush along surfaces without damaging floors, but just be cautious when using this setting on your car floor mats.
Ideal for Mattresses
You might be searching for a handheld vacuum cleaner for your mattress, and if so, the V6 Trigger has everything you need to remove dirt and particles from your bed. This product can collect dead skin cells, dirt, and allergens that accumulate on your mattress's surface. With deep-cleaning technology, the mattress attachment picks up any debris that you can't necessarily see from looking at the bed. Repeat this process every few months to ensure you're sleeping in a clean bed each night.
The Difference Between The Dyson V6 Series and The Dyson V7 Series
We hope that this article has been informative by providing ample information about the Dyson V7 series. But, what's the difference between this series and the V7 series?
Charging Periods
The V6 series takes around three hours to completely charge, which is not bad for a cordless vacuum cleaner. Once fully charged, most models from this series last for around 20 minutes, depending on the level of suction you choose. The V7 series knocks off 30 minutes from the charging period and allows the vacuums to run for longer due to the larger battery.
Filtration
All of the V6 series models feature HEPA filters to collect any allergens floating in the air or deep within floor surfaces. Surprisingly though, the V7 series doesn't have this but instead features a basic filtering system. Consequently, any models from the V7 series cannot trap any allergen and improve the air quality within a home. This might not be a problem for everyone, but it seems bizarre for Dyson to remove this incredible filtering system.
Similarities Between Both Series
However, there are also many similarities such as a cordless design that enables you to conveniently use the vacuum cleaner and store it on your wall. This docking station provides easy access to the vacuum and any attachments, no matter which model you opt for.
All products weigh only 5lbs to make cleaning the stairs and ceilings more possible while providing a comfortable and portable design for everyone. No matter what series or product you choose, all Dyson products are designed to pick up any dirt and debris in its way. This is ideal for cleaning cars, stairs, ceilings, or even awkward surfaces around your home. Finally, there's also a maximum of 100-115 watts, which is equivalent to most corded upright vacuums.
Have any of these Dyson V6 products caught your eye, or would you love to talk about a model we've missed? Post your thoughts in the comments, and don't forget to share this article with your friends if you enjoyed reading it.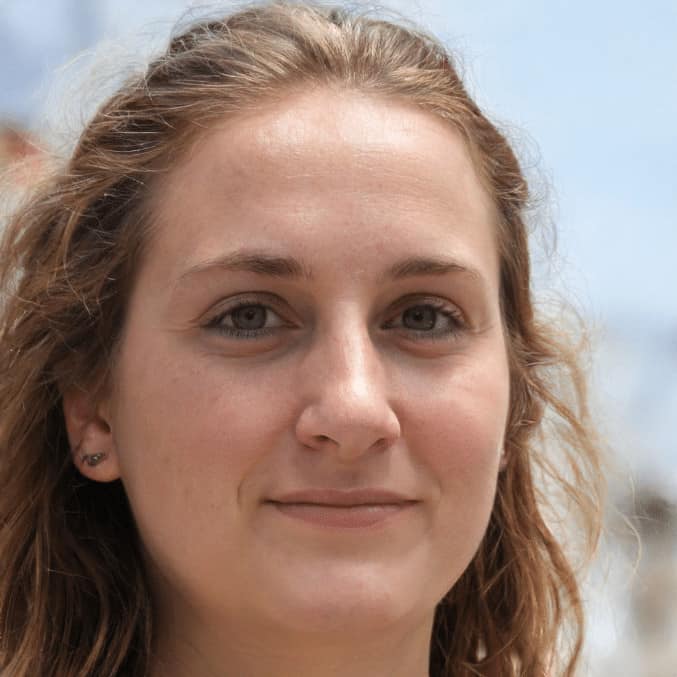 With a degree in engineering, Kathryn Hansen loves to write about how things work. Having her own dilemmas on how to pick the best vacuum cleaner for her large family (with a handful of furry four-legged members as well), Kathryn decided to help others in the same situation. After all, vacuum cleaners are critical to a healthy lifestyle and people have a hard time choosing the best one for their needs.